Determining Our Vision for the Next Decade
Marshall's strategic planning process will help us determine how we can thrive in a dramatically changing public funding environment. Students, faculty, staff and community: We are working together to develop a shared future vision for the university we love so much.
This site is designed to further the goal of sharing and articulating that vision with our campus community. Please join us in this cooperative effort to lead Marshall University with a clear vision to the year 2020 and beyond.
---
October 27, 2014
A Message from President Kopp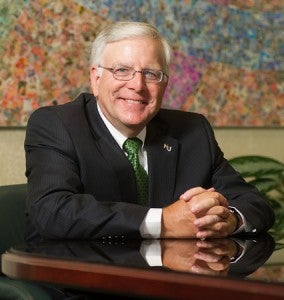 Dear Colleagues,
Since beginning this endeavor last year, the progress we have made as a university community has been exceptional. We all share in this remarkable success.
Along the way, we have become better acquainted—both personally and professionally—and have developed a shared sense of purpose and commitment. Collectively, we truly do possess the power to shape the future of our university for the better.
As I said last fall when we started this journey, we are taking on one of the most significant and complex challenges in the history of Marshall University. In doing so, we have mobilized one of the strongest and most collaborative team efforts I have ever witnessed.
By taking charge of our own destiny, all of us have exhibited great courage and resolve. We have overcome the fear of the unknown and have accepted the challenge to lead and shape our own future. It is truly an honor and privilege to be working alongside you on these important initiatives.
We are now beginning to assemble and connect the separate products resulting from all the hard work that has taken place since the initial campus leadership meeting in October 2013—including the Shared Vision Statement, the new Budget Model, the Academic and Services Portfolio Reviews, and the Performance Measures. These individual pieces do form the fabric and substance of a compelling whole.
Our efforts will help eliminate non-essential expenditures so we can mobilize resources to reinvest in our people, in priority programs and in targeted new initiatives.
We are moving ahead swiftly on our action plan from the October 17, 2014, Campus Leadership Retreat, including forming the eight implementation teams to purse the opportunities identified in the Services Portfolio Review. The formation of the implementation teams is already under way and your continued involvement will be crucial.
We will continue to work to keep the campus community informed as this process moves forward. We appreciate and encourage your input and ideas.
Again, thank you for your continued dedication, engagement and support.
Sincerely,
Steve 
Stephen J. Kopp, Ph.D.
President