Graduate Studies
The School of Art and Design offers the M.A. in Art in an area of emphasis in studio art with concentrations in the following areas of study: ceramics, fibers, graphic design, painting, photography, printmaking, or sculpture.
Admission Requirements
Applicants should follow the admissions process described in the graduate catalog or at the Graduate Admissions website at http://www.marshall.edu/graduate/admissions/how-to-apply-for-admission/.
In addition, applicants must submit to Graduate Admissions:
GRE scores (not required for Studio Art Area of Emphasis).
A portfolio with twenty representative examples of the applicant's artwork that includes a digital archive with a numbered image sheet listing work title, medium, and size.
A writing sample consisting of an artist's statement of 500-700 words.
Letter of application addressed to the graduate coordinator.
Three letters of reference in sealed and signed envelopes
Application deadlines
To begin Spring Semester: October 15
To begin Fall Semester: March 15
Applicants whose transcripts, portfolio, or writing samples indicate lack of adequate preparation for graduate study in Art and Design are required to do preliminary coursework to address the deficiencies in order to be considered for admission.
Applicant's portfolio and writing sample
Faculty members will review the applicant's portfolio and submit a letter of recommendation to the graduate committee. The graduate committee will decide whether to accept the student based on its review of the portfolio, writing sample, and transcripts.
Demo reel for MU graduate student, Matthew Crutchfield
Courses Prerequisite to Graduate Study in Art and Design for those not completing a Bachelor's in Art
One year of developmental undergraduate courses for those lacking undergraduate degrees in art who wish to pursue graduate study in art will consist of a minimum of:
Two courses from the following studio courses (selected in consultation with the graduate advisor): ART 214, 215, 217, 218, 219, 418 and,
Art History 201 and 202
Two courses in proposed area of studio concentration
These courses will not be converted or substituted for graduate credit.
Prospective students who have completed comparable courses as undergraduates may substitute that work for some of these requirements in consultation with the director or graduate coordinator.
Download the School of Art & Design Graduate Handbook (PDF)
At completion of the minimum of 18 hours of developmental coursework, a portfolio and writing sample must be submitted to the graduate committee for review.
Program Requirements
General Requirements
Each student will have a committee for the purposes of advising and reading the comprehensive examination. The student will select two faculty members plus the graduate coordinator or director of the School of Art and Design.
A Plan of Study approved by the student's advisor must be submitted for approval to the Graduate College Dean before the student registers for his or her 12th semester hour. The Plan of Study is a student's "blueprint" for completing graduation requirements.
All students in studio concentration areas are required to undergo a review of their artwork after completing 9 hours of work. Students must pass this review before registering for additional studio courses. All students in studio concentration areas are additionally required to undergo an 18-hour review. Dates for both the 9-hour and 18-hour reviews are circulated every semester by the Art and Design office.
Transfer students must complete a minimum of 30 hours toward the degree in courses in the Marshall University School of Art and Design.
All students seeking an M.A. degree in Art must pass a written comprehensive examination prior to graduation.
All students seeking an M.A. degree in Art are required to design and exhibit artwork completed at Marshall University, in an approved exhibition venue, prior to graduation.
Art and design majors may not take Art 507 as an art history credit toward their graduate degrees
Studio Art Area of Emphasis
The degree of Master of Arts in Art, with an emphasis in Studio Art, requires a minimum of thirty-six credit hours. General Graduate College admission requirements must be fulfilled. It is suggested that applicants contact a studio faculty member in the studio concentration they wish to pursue if they have questions about the program. An exhibition of completed artwork is required.
Minimum Course Requirements: 36 hours
Studio area: 18 – 21 hours
Art History: 6 – 9 hours
Seminar (ART 670): 3 hours
Electives in courses selected in consultation with advisor: 6 – 9 hours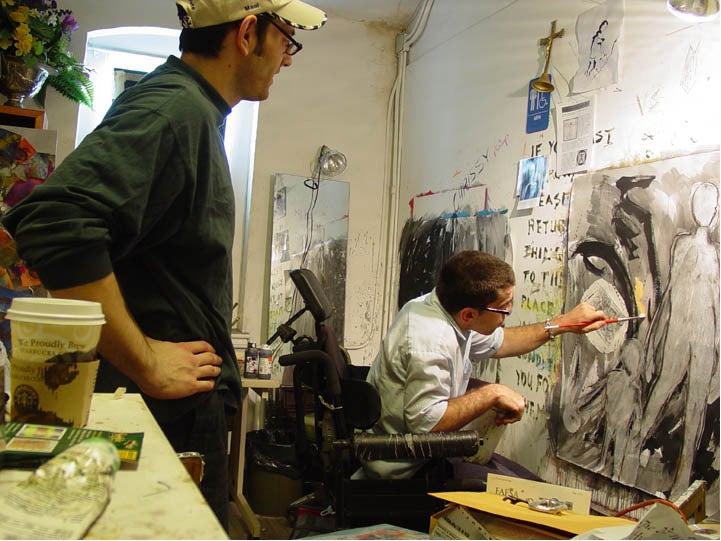 Graduate assistantships and other forms of financial aid are available. Contact the School of Art and Design at 304-696-6760 for more information about graduate assistantships.  For more information about the university's financial aid opportunities, contact the Financial Aid Office at Marshall University by phone at 1.800.438.5390 or through email  sfa@marshall.edu.  Information about Federal Student Aid can be found at  http://www.fafsa.ed.gov or by calling their Information Center at 1-800-4-FED-AID (1-800-433-3243) or 1-319-337-5665.
Important links