A club sport at Marshall University can be defined as any voluntarily organized group of Marshall students, faculty, or staff that wish to pursue competition in a specific sport involving physical skill. Club sports are often associated with their own sport governing bodies or leagues that help them to compete against other collegiate clubs or outside teams, but are not regulated by the National Collegiate Athletic Association (NCAA) or National Association of Intercollegiate Athletics (NAIA), and do not have varsity status. Each club participant is responsible for representing Marshall in a positive manner by adhering to all University and Campus Recreation policies.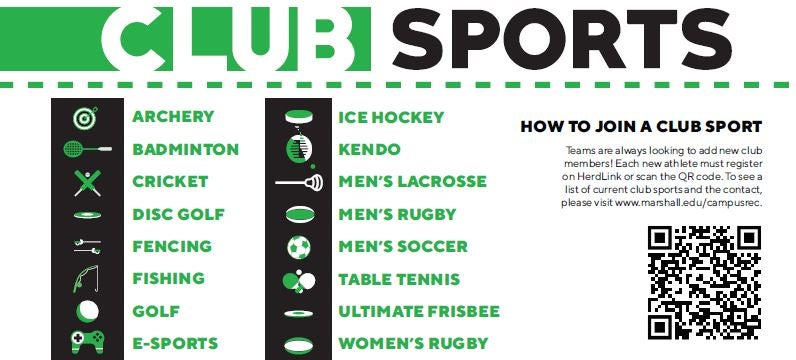 2019 Marshall Club Sports Contact List
Club Name
Club President
Contact Info
Women's Rugby
TBD
TBD
  Men's Lacrosse
TBD
TBD
Fencing
TBD
TBD
Disc Golf
TBD
TBD
Men's Soccer
TBD
TBD
Kendo
TBD
TBD
Ultimate Frisbee
TBD
TBD
Badminton
TBD
TBD
Table Tennis
TBD
               TBD
Cricket
TBD
TBD
Fishing
TBD
TBD
Ice Hockey
TBD
TBD
Golf
TBD
TBD
How to Create a New Club Sport?

---
All club sports must be registered with Marshall University. These requirements are established by Student Involvement & Leadership and the Recreation Center and include, but are not limited to, a list of officers and advisors and acknowledgement of policies. Club sports are voluntary associations led by students, which are legally separate entities from Marshall University and the Recreation Center.
Club Sport Checklist:
---
1. Meet with the Coordinator of Competitive Sports and Camps to go over club sports guidelines (no duplication of active club sports i.e. one club per sport, per gender)
2. Complete the "Intent to Form" application
3. If approved, the club is entitled to Provisional Club status for a specific time period
4. Register club on HerdLink
5. Recruit at least 7 currently enrolled club members
6. Recruit a faculty/staff advisor(s)
7. Create club constitution
a. The club is required to include in its bylaws or its constitution a provision clearly stating that Marshall University is not responsible for organization acts and liabilities
8. Select officers (President, Safety Officer, Secretary OR Treasurer)
9. Document potential competitors, either through a governing league or listing clubs at nearby universities
10. Submit in season dates, contest schedules, and practice requests
11. Complete the Organization Recognition Form via HerdLink
12. Attend mandatory monthly Club Sport Association (CSA) meetings/trainings
For more information about Club Sports, please contact: