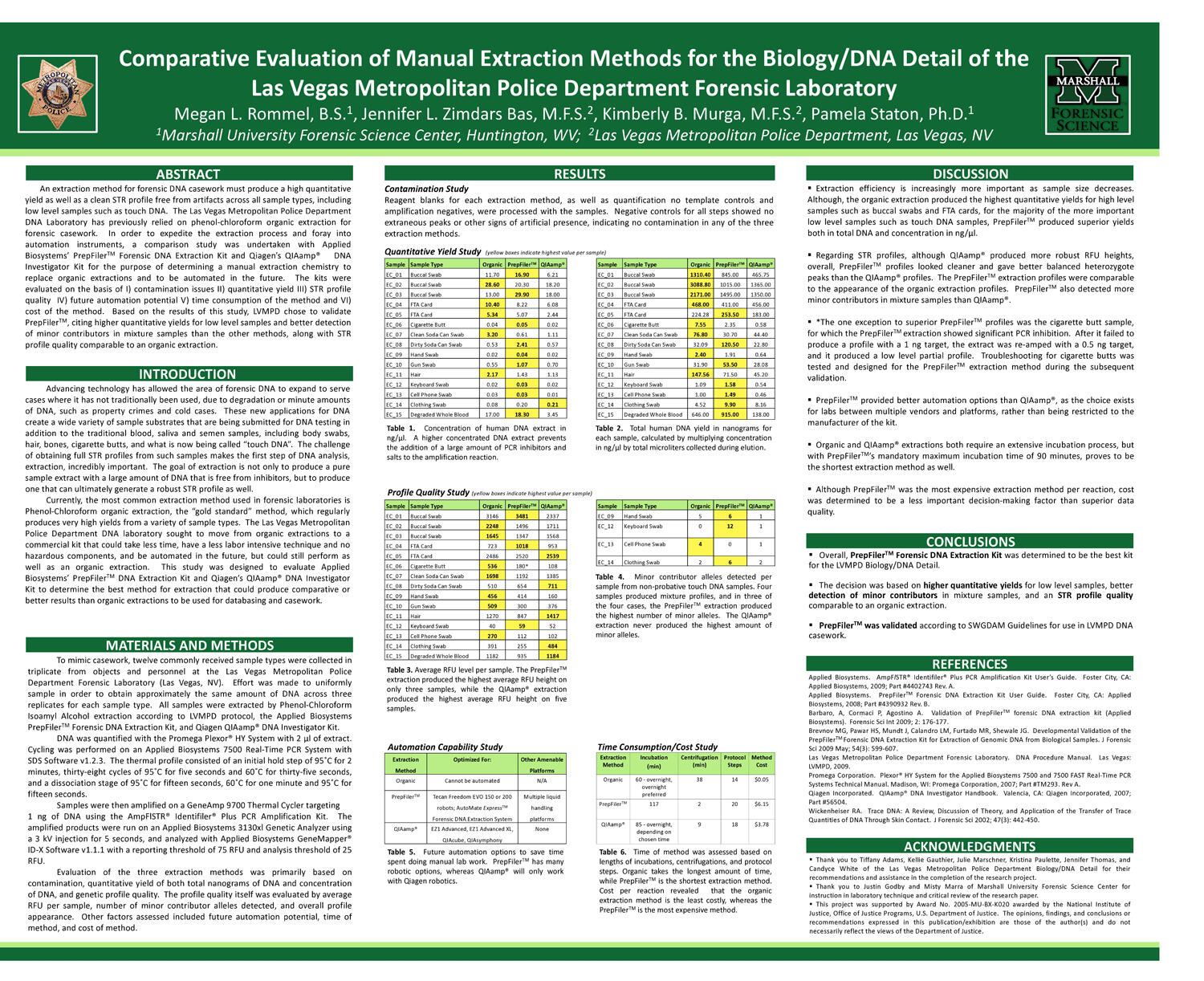 Comparative Evaluation of Manual Extraction Methods for the Biology/DNA Detail of the Las Vegas Metropolitan Police Department Forensic Laboratory
Biography:
Megan Rommel is from Dallas, Texas.  She graduated from Duke University in 2009 with a Bachelor of Science degree in Biology, concentrating in Genetics, and minors in Chemistry and Psychology.  She is a second year graduate student in the Master's of Forensic Science Program at Marshall University, completing areas of emphasis in forensic DNA analysis, crime scene investigation, and computer forensics.  Megan completed her summer internship with the Las Vegas Metropolitan Police Department in the Forensic Laboratory's Biology/DNA Detail.
Abstract: 
An extraction method for forensic DNA casework must produce a high quantitative yield as well as a robust STR profile free from artifacts across all sample types, including low level samples such as touch DNA.  The Las Vegas Metropolitan Police Department Forensic Laboratory Biology/DNA Detail has previously relied on phenol-chloroform organic extraction for forensic casework.  In order to expedite the extraction process and foray into automation instruments, a comparison study was undertaken with Applied Biosystems' PrepFilerTM Forensic DNA Extraction Kit and Qiagen's QIAamp® DNA Investigator Kit for the purpose of determining a manual extraction chemistry to replace organic extractions and to be automated in the future.  The kits were evaluated on the basis of I) contamination issues II) quantitative yield III) STR profile quality IV) future automation potential V) time consumption of the method and VI) cost of the method.  Based on the results of this study, LVMPD chose to validate the PrepFilerTM Forensic DNA Extraction Kit, citing higher quantitative yields for low level samples and better detection of minor contributors in mixture samples than the other methods, along with STR profile quality comparable to an organic extraction.
Poster:
References:
Applied Biosystems.  AmpFlSTR® Identifiler® Plus PCR Amplification Kit User's Guide.  Foster City, CA: Applied Biosystems, 2009; Part #4402743 Rev. A.
Applied Biosystems.  PrepFilerTM Forensic DNA Extraction Kit User Guide.  Foster City, CA: Applied Biosystems, 2008; Part #4390932 Rev. B.
Barbaro, A, Cormaci P, Agostino A.  Validation of PrepFilerTM forensic DNA extraction kit (Applied Biosystems).  Forensic Sci Int 2009; 2: 176-177.
Brevnov MG, Pawar HS, Mundt J, Calandro LM, Furtado MR, Shewale JG.  Developmental Validation of the PrepFilerTM Forensic DNA Extraction Kit for Extraction of Genomic DNA from Biological Samples. J Forensic Sci 2009 May; 54(3): 599-607.
Las Vegas Metropolitan Police Department Forensic Laboratory.  DNA Procedure Manual.  Las Vegas: LVMPD, 2009.
Promega Corporation.  Plexor® HY System for the Applied Biosystems 7500 and 7500 FAST Real-Time PCR Systems Technical Manual. Madison, WI: Promega Corporation, 2007; Part #TM293. Rev A.
Qiagen Incorporated.  QIAamp® DNA Investigator Handbook.  Valencia, CA: Qiagen Incorporated, 2007; Part #56504.
Wickenheiser RA.  Trace DNA: A Review, Discussion of Theory, and Application of the Transfer of Trace Quantities of DNA Through Skin Contact.  J Forensic Sci 2002; 47(3): 442-450