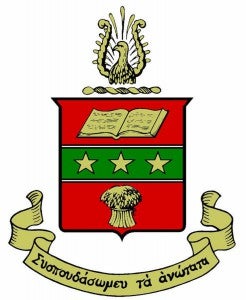 Alpha Chi Omega
Alpha Chi Omega (ΑΧΩ) is a women's fraternity founded on October 15, 1885. Currently, there are more than 130 collegiate chapters of Alpha Chi Omegas represented throughout colleges and universities across the United States, and there are more than 200,000 lifetime members.
The Gamma Omicron chapter of Alpha Chi Omega was founded on Marshall University's campus on 1952.
Colors: Scarlet and Olive Green
Symbol: Lyre
Flower: Scarlet Carnation
Mascot: Angel
Philanthropy: Alpha Chi Omega Foundation
To find out more about the Gamma Omicron Chapter, click the crest to the right.
President: Brittany Turner
Email: turner210@marshall.edu