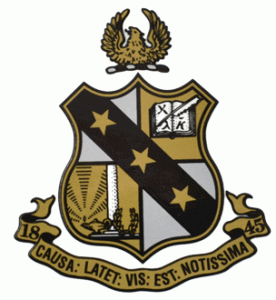 Alpha Sigma Phi
Founded at Yale University on December 6, 1845, Alpha Sigma Phi was founded upon five virtues: Charity, Honor, Purity, Silence and Patriotism. The Old Gal was originally founded as a sophomore literary society, but to this day has grown to be much more. We push for academic and social excellence, while fostering brotherhood. Alpha Sig is the fastest growing fraternity nationwide, and is looking for those members who are striving for excellence in every facet of their lives.
Local History and Chapter Facts
Founded at Marshall University in 1929.
At Alpha Sigma Phi, our motto is "To Better the Man," and that is exactly what we strive to do. We hold ourselves to the highest standards both academically and in the community. Alpha Sigma Phi has won 6 of the last 7 annual Chapter of Excellence Awards presented annually to the most outstanding fraternity on Marshall's campus, and as of 2013 Alpha Sigma Phi was named a "Gold Standard" Chapter by Marshall University's Office of Fraternity and Sorority Life.
New Member Dues/Initiation Fee: $630 in full or nine payments of $70/month
Active Member Dues: $335 per semester
GPA Requirements for new members: 2.3 cumulative
Housing Requirements: All active brothers must be at least a junior to live in the house unless specifically exempted by Marshall University. Each brother is required to live in the house at least one semester.
National Website: www.alphasigmaphi.org
Chapter Colors: Cardinal and Stone
Contact
Mack White, President
Email: white624@marshall.edu
Elijah Stevens, Recruitment 
Email: stevens176@marshall.edu