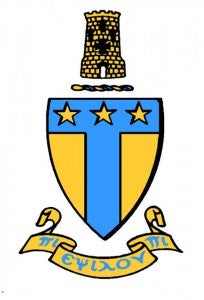 Alpha Tau Omega
Founded in 1865 at the Virginia Military Institute, Alpha Tau Omega prides itself on having a strong and open brotherhood. ATO is a leadership fraternity that gives you the tools for building a successful future. Stop by the house at any time and introduce yourself. We are always looking for eager men to join our brotherhood. A few events Alpha Tau Omega does each year are a camping trip, ski/snowboarding trip and our annual golf outing.
Local History and Chapter Facts
Founded at Marshall University on April 1, 1978 by three main founders: Dr. Pat Brown, Prof. At Marshall Med School and President of ATO national fraternity; A. Mervin Tyson retired Vice President of Academic Affairs; and Randy King a grad assistant and an ATO from Southern Illinois University.
ATO was the first fraternity at Marshall to integrate in 1978.
Newest house on the row, built in 1988.
Created the philanthropy event ATO Goes Homeless, which is now duplicated by other ATO chapters nationwide
While still students, 3 ATO's sued the governor of WV and won over misuse of funds
Members of Alpha Tau Omega, while still in college wrote the West Virginia anti-hazing law
Won the True Merit Bowl (ATO's highest honor) eight different times
Six SGA presidents have been an ATO since 1978
The chapter offers a $1,000 scholarship to one outstanding new member
The ATO new member education program is centered on teaching leadership skills, academic skills, and social skills. This is to create a centered man who will be able to contribute to Marshall University, Alpha Tau Omega and the greater community.
Association Fee: $100
Initiation Fee: $150
National Dues: $115
Local Dues: $160 in house or $220 out of house
Housing Requirements: Two semesters or two summers
GPA Requirements: 2.25 existing college GPA or not in the bottom third of HS GPA
Chapter Colors: Old Gold and Azure
Contact
Matthew Santer, President
Email: santer4@marshall.edu