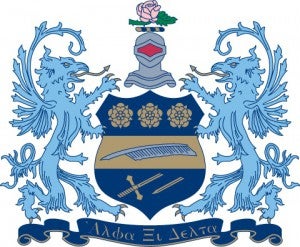 Alpha Xi Delta
Alpha Xi Delta (ΑΞΔ) is a women's fraternity founded on April 17, 1893 at Lombard College, Galesburg, Illinois. Alpha Xi Delta is one of the oldest women's fraternities as well as one of the ten founding fraternities of the National Panhellenic Conference. Alpha Xi Delta has over 150,000 initiated members and maintains chapters at 116 institutions across the United States.
The Gamma Beta chapter of Alpha Xi Delta was founded at Marshall University in 1950.
Colors: Double-Blue and Gold
Symbol: Quill
Flower: Pink Rose
Mascot: BetXi Bear
Philanthropy: Autism Speaks
To learn more about the chapter, click the crest to the right.
President: Sasha Tackett
Email: tackett109@marshall.edu