Delta Chi (D Chi)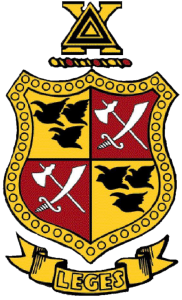 Delta Chi believes great advantages are to be derived from a brotherhood of university men. Appreciating that close association may promote friendship, develop character, advance justice and assist in the acquisition of a sound education. Delta Chi at Marshall has held the highest term GPA for the past two semesters and has raised over $3,000 for our national philanthropy, the Jimmy V Foundation, and holds the longest intramural undefeated football record.
New Member Dues: $400
Active Member Dues: $400 per semester
GPA Requirements: 2.75 Cumulative HS or 2.5 Cumulative College GPA
National Website: www.deltachi.org
Chapter Colors: Red and Buff
Local History and Chapter Facts:
Founded at Marshall University on April 25th, 2004.
Raised thousands of dollars throughout the years for the fraternity philanthropy, The Jimmy V Foundation.
Greek Week champions in 2009 and 2011.
Contact Delta Chi:
Nick Frye, President
Email: frye118@marshall.edu