Sigma Alpha Epsilon (SAE)

---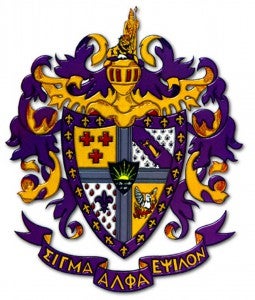 Sigma Alpha Epsilon was founded on March 9, 1856, at the University of Alabama in Tuscaloosa, Alabama. The mission of Sigma Alpha Epsilon is to promote the highest standards of friendship, sholarship and service for our members based upon the ideals set forth by our founders and as specifically enunciated in our creed.
Association/Initiation Fee: $275
New Member Fee: $225
Active Member Dues: $375
GPA Requirements: 2.75 HS/College GPA
National Website: www.sae.org
Chapter Colors: Purple and Gold
Contact Sigma Alpha Epsilon:
Tyler Stewart, President
Email: stewart261@marshall.edu
Twitter: @WValphaSAE
Chapter Website: www.marshall.edu/sae
Local History and Chapter Facts:
Founded at Marshall on November 21, 1953.
There were 40 chapter founding fathers.
Two buildings at Marshall University are named for SAE Alumni (Wellman and Gullickson Hall)