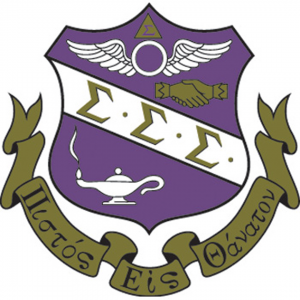 Sigma Sigma Sigma
Sigma Sigma Sigma was founded on April 20, 1898 in Farmville, VA at Longwood College. Tri-Sigma is a national American women's sorority with membership of more than 100,000 women. Sigma Sigma Sigma is a member of the National Panhellenic Conference and hosts chapters on more than 110 college campuses and 89 alumnae chapters. Tri-Sigma's mission is to establish among its members a perpetual bond of friendship, to develop in them strong womanly character, and to impress upon them high standards of conduct. Sigma Sigma Sigma reaffirms its long standing core values of wisdom, power, faith, hope and love.
The Psi chapter of Sigma Sigma Sigma was founded at Marshall University in 1922.
Colors: Royal Purple and White
Symbol: Skull and Cross Bones
Flower: Purple Violet
Mascot: Sailboat
Philanthropy: Sigma Serves Children—Robbie Page Memorial
To learn more about the chapter, click the crest to the right. 
President: Whitley Winter
Email: winter38@marshall.edu