Current Collaborative Projects
Since it was established in the 1970s at the West Virginia College of Graduate Studies (see here), the Graduate Humanities Program has a long history of engaging in projects and partnerships that augment the Program's mission, and advances its tradition of outreach and civic engagement. Below are some of the Program's most recent projects and partnerships involving faculty, students, and community partners.
The Public Humanities Project
The Public Humanities Project is a long-term strategic plan to augment, strengthen, and grow a curriculum in public humanities that will directly benefit both our students and the communities and organizations surrounding the Marshall University Graduate College South Charleston campus. Some of the seminars taught in this initiative since 2006 include: Seminar in Public Humanities, Public Relations for Nonprofits, Grant Writing in the Humanities, Museum Studies and Exhibit Design, Social Memory and Oral History, and Exhibits for/in Local Communities. Several of the projects and partnerships highlighted below have grown out of this initiative. Read more here. Contact the Director for more information
---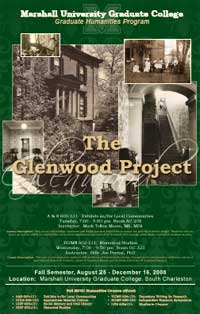 The Glenwood Project
The Glenwood Project is a Graduate Humanities Program initiative to facilitate public engagement with the rich and complicated history of Charleston and the Kanawha Valley through the lens of the Glenwood Estate in West Charleston, now owned and maintained by the Historic Glenwood Foundation (formerly the Marshall University Graduate College Foundation). The project is funded through a partnership with the West Virginia Humanities Council, Council for West Virginia Archaeology, Kanawha Valley Historical & Preservation Society, Historic Glenwood Foundation (formerly the Marshall University Graduate College Foundation), Graduate School of Education and Professional Development, and College of Liberal Arts. Program faculty, students, and community partners have finished Phase I (which included preliminary research and a public symposium [2006-2007]) and Phase II (which included a traveling exhibit of the Estate and its impact on the region [2008-2010]), and are currently completing Phase III (which includes an oral history research component [2011-2012]). More about the Project can be found on the The Glenwood Project website, which includes photos and videos; updates about the project's progress; as well as links to papers, reports, a blog, and several of other items of interest. Contact Drs. Luke Eric Lassiter, Robert Maslowski, Billy Joe Peyton and/or Mr. Mark Tobin Moore for more information about the Project.
---
Museum Studies and Exhibit Design
Due to student interest and the extensive knowledge and expertise of Mark Tobin Moore (see, for example, here), the Program began offering occasional seminars in museum studies and exhibit design, which have engendered several local exhibits. An example is Museum Studies and Exhibit Design, a seminar that produced two local exhibits, "The Other Charleston" (a Good News Mountaineer Garage Gallery photography exhibition) and "They Are Still With Us" (an installment of the Clay Center's "Lightscapes for the Holidays"). Moore and his students have produced several exhibits along these lines, both as independent research projects (such as the Drawing Hope exhibition) and as collaboratives (such as the 20th Century Collage exhibition and Glenwood: Window to the West Side). For more on these exhibits, see here. Contact Moore for more information.
---
Local Artists Series
The Local Artists Series is a partnership between the Graduate Humanities Program and University Libraries (MUGC-South Charleston).  Each exhibit highlights the work of a local artist.  For a sample of our recent exhibits and information on current and upcoming exhibits, see here.