Current News
Moving Forward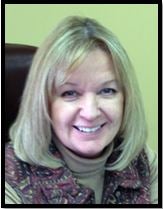 Debbie Painter assumed the position of Interim Director of the H.E.L.P. Center on January 26, 2013. A part of H.E.L.P. since January 1991 when she began as a graduate assistant while obtaining her Master's Degree in Learning Disabilities, she was most recently Assistant Director/ Coordinator of Diagnostics.   H.E.L.P. is fortunate that a person of Mrs. Painter's caliber agreed to fill this position.  Her twenty-two years of experience is invaluable in directing the H.E.L.P. Center.
Mrs. Painter is enthusiastic and passionate about H.E.L.P., and she is dedicated to empowering students with Specific Learning Disabilities and/or Attention Deficit Hyperactivity Disorder to reach their full potential.  She has touched countless lives through the years and will continue to do so as the program moves forward.
Married to Charles Painter, they are the parents of two adult children, Scott Painter and Courtney Urbach.  Mrs. Painter's interests include reading, gardening, and traveling (especially to Colorado to visit their only grandchild, Cassidy Urbach).
Mrs. Painter says that she looks forward to leading the H.E.L.P. team during this time of transition.
H.E.L.P. New Director Resigns
Kristina Pollard, H.E.L.P. Center Director resigned effective January 25, 2013 in order to move with her family to Hattiesburg, MS.  Mrs. Pollard's husband, Lytrel, a Marshall University football coach, accepted a position with the University of Southern Mississippi necessitating the relocation.
While at H.E.L.P. Mrs. Pollard brought forth many new ideas and had plans for taking H.E.L.P. in new directions.  During her time here she developed a Five-Year Strategic Plan and Policy and Procedure Manual.
H.E.L.P. thanks Mrs. Pollard for the work she did while she was here and wishes her the best as she and her family begin this new phase in their lives.
H.E.L.P. Graduation
Our favorite time of the year, our graduation ceremony. We at H.E.L.P. are so very happy and proud of our graduates and wish them the best.