Current News
M.U. H.E.L.P. Center Announces New Director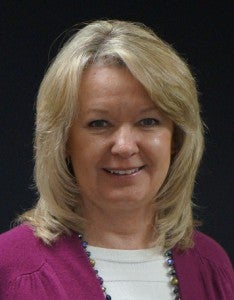 The Marshall University's Higher Education for Learning Problems (H.E.L.P.) Center is pleased to announce that Debbie Painter, MA, has been named the fourth Director in program history. The announcement came just after the center's annual graduation ceremonies, where 20 of the program's students were honored for their achievement in completing their degree work. "During the 2013-14 academic year, we've seen more than a third of our students achieve GPA's of 3.0 or better and had 28 students earn their degrees from Marshall University," reflected Painter. "The academic success of our students has been tremendous and I am thrilled to be a part of the support system which makes it possible. Following the Fall 2013 semester, 70 H.E.L.P. students achieved GPA's of 3.0 or better and 8 students graduated, while Spring of 2014 saw 20 graduates and 69 students honored for 3.0 or higher GPAs. The H.E.L.P. Center is a nationally-acclaimed program affiliated with Marshall University. H.E. L.P. provides individual instruction and academic support for students with specific learning disabilities and/or Attention Deficit Hyperactivity Disorder. The center began working with undergraduate students at Marshall University in 1981 and today addresses areas of academic need through six different divisions, working with individuals from ages 5 to adult. Painter began tutoring for the H.E.L.P. Center in 1991 as a Graduate Assistant and in 1992 her role became Diagnostician. Debbie has served as a Reading Specialist and has provided corrective reading instruction to medical students. She became the Coordinator of Diagnostics in 1995 and continues to oversee that division.
In July 2012 Painter was appointed Assistant Director of H.E.L.P. to supervise the college program. Painter holds a pair of degrees from Marshall University, completing a Bachelor's in Elementary Education 1-6 and Early Education N-K in 1
990 and earning a Master's in Special Education and Learning Disabilities in 1993. She is a member of both the International Dyslexia Association and the LearningDisabilities Association of America. In January of 2013, Painter stepped up to the role of Interim Director, overseeing the day-to-day operations of the program, as well as participating in the initial search for new leadership. "It's hard for me to remember my professional life before the H.E.L.P. Center, its staff and the incredible students we get to interact with every day. I am so pleased to continue to find challenges and fulfillment in a program that has become a professional home. "We have an exceptional charge and with that comes distinctive challenges. Higher education is a constantly shifting and evolving world. We are tasked with helping our students – many of whom depend on structure and stability in their life – to navigate those changes and challenges in order to complete their education and move out into the workforce."
H.E.L.P. Center Receives Scholarship Support from Generous Private Donation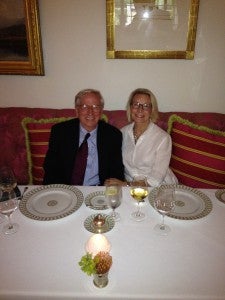 Huntington, June 5th, 2014 -The Marshall University Higher Education for Learning Problems (H.E.L.P.) Center is pleased to announce a generous gift from two of its long-time supporters has resulted in scholarship support for its students. The Dr. George F. White and Sandra J. White Scholarship for H.E.L.P. has been established by the Portsmouth, Ohio residents to assist students who are participants in the program. "Dr. and Mrs. White have both served on our board for many years and have been ardent advocates for our program," said H.E.L.P. Director Debbie Painter. "Over the years, their personal involvement has been a tremendous support for us in many areas and we were overjoyed and honored to hear they were interested and willing to establish a scholarship to assist our students." The H.E.L.P. center is a nationally-acclaimed program affiliated with Marshall University. H.E. L.P. provides individual instruction and academic support for students with specific learning disabilities and/or Attention Deficit Hyperactivity Disorder. The center began working with undergraduate students at Marshall University in 1981 and today addresses areas of academic need through six different divisions, working with individuals from ages 5 to adult. The Whites' scholarship, endorsed by the Marshall University Foundation, will benefit a student in the program's college division. Eligible recipients shall be a full-time sophomore, junior or senior undergraduate student who is a resident of the metro area of Scioto County, Ohio or the state of West Virginia (with preference given to Boone County, WV, where Dr. White grew up). Preference will also be given to students who are military veterans or a child of a veteran. During the first years of its establishment, the scholarship was awarded to Evan Hazelett. A 2010 graduate of Huntington High School and a native of Huntington, Hazelett graduated from Marshall this past May earning a business degree. Dr. White graduated from Sherman High School in Seth, W.V. prior to earning a Bachelors of Science from Marshall University in 1963. He obtained a medical degree from the Medical College of Virginia in 1967 and did his internship at Emory University in Georgia. A decorated Vietnam veteran, Dr. White served one year with the Marine Corp overseas and another with the Navy stateside. After completing his military service, White completed his ENT Head and Neck Surgery at Ohio State University and subsequently set up a practice in Portsmouth. For more than 30 years, White was in private practice in Otolaryngology and Head & Neck Surgery with the assistance of his wife, who served as the office manager and bookkeeper. Mrs. White, a native of Louisville, K.Y., is a graduate of Notre Dame High School in Portsmouth, OH and holds a Bachelor of Arts from OSU. She is a board member of the Portsmouth Wind Symphony and serves on the Permanent Collection Committee of the Southern Ohio Museum and Cultural Center.
Marshall University H.E.L.P. Center is recipient of scholarship grant from Enterprise Holdings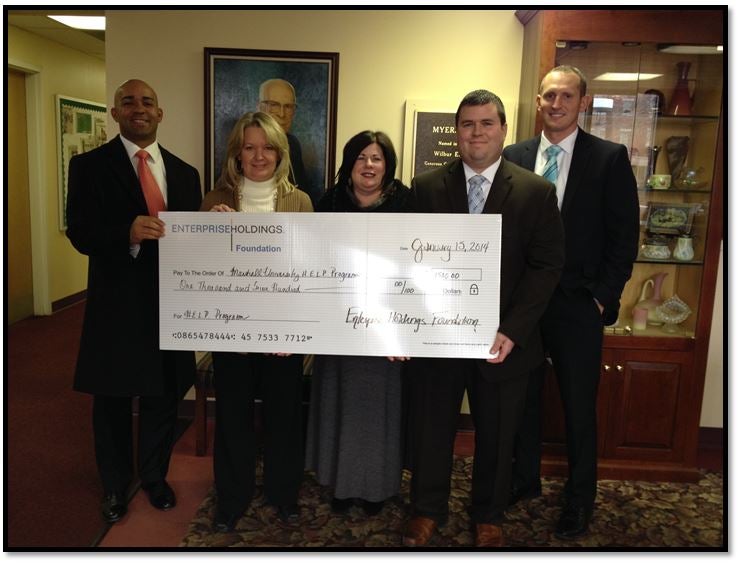 Huntington, January 23, 2014:  Debbie Painter, Director of Marshall University's Higher Education for Learning Problems (H.E.L.P.) Center is pleased to announce the program has received a scholarship grant of $1,500 from the Enterprise Holdings Foundation. Painter accepted the funds last week on behalf of the H.E.L.P. program, which enters its 33rd year serving students with learning disabilities and Attention Deficit Disorder/Attention Deficit Hyperactivity Disorder (ADD/ADHD) at Marshall University and in the surrounding community. "The core of what we do at H.E.L.P. is to provide students with the tools, training and tutelage they need to be successful across their present level of education," said Painter. "This scholarship donation will directly impact that." "An investment of this nature will provide 50 hours of tutoring for a student in our community who is struggling to keep pace academically because of a diagnosed learning disability or attention deficit." The donation was the result of a grant application completed by the program and submitted to the foundation, which acts as the charitable arm of Enterprise Holdings, parent company of Enterprise Rent-A-Car, National Rent-A-Car and Alamo Rent-A-Car and recognized as "the largest car rental service provider in the world measured by revenue, employees and fleet" according to its corporate literature. The H.E.L.P. Program's grant application specifically drew attention to the need for scholarship funding in the Community H.E.L.P. division, citing Census statistics which show that one in three children in Cabell County is living below the poverty line. Community H.E.L.P. is one of six divisions of academic support with the center offers – ranging from students in primary school to post-graduates entering medical school. The Center also provides assistance with diagnostic assessments and skills development. In the Community H.E.L.P. division, the program's tutors work with students in grades 1-12 to develop and improve their skills in reading, spelling, writing, math, organization, and self-esteem building.
H.E.L.P. Center Director Debbie Painter and Coordinator of Skills and Student Development Sara Barker accept a check for $1,500 in scholarship funds from representatives of the Enterprise Holdings Foundation. Pictured (L-R ) Raymond Washington, Area Rental Manager for Enterprise Holdings; Debbie Painter, H.E.L.P. Center Director; Sara Barker, Coordinator of Skills and Student Development; Derek Barker and Brian Hess, Enterprise Holdings.
  From H.E.L.P. Center Website (www.marshall.edu/help) The mission of the Marshall University H.E.L.P. Center is to provide educational support, remediation, and mentoring to individuals with a specific Learning Disability and/or Attention Deficit Disorder/Attention Deficit Hyperactivity Disorder.   From Enterprise Holdings Website (http://www.enterpriseholdings.com) The Foundation was established by our Founder Jack C. Taylor to allow the company to give back to the communities in which our customers and employees live and work. The Foundation provides charitable support to worthwhile, non-profit initiatives that are actively supported by the company's employees, their spouses and loyal customers in the thousands of local communities where we operate. The Foundation also provides more sizable special grants to non-profit groups or causes of significant strategic or social importance to the company and its employees.

January 28th, 2014 - Members of the Marshall H.E.L.P. Center recently contributed to most recent issue of the SouthEast Education Network's publication S.E.E.N. Magazine. We are delighted to share the article with the H.E.L.P Community.   Click Here to link to the article
H.E.L.P. Graduation
Our favorite time of the year, our graduation ceremony. We at H.E.L.P. are so very happy and proud of our graduates and wish them the best.