Dr. Chuck Bailey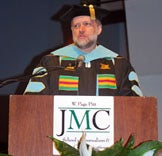 Radio-Television Production & Management
WMUL-FM, Adviser
Email:
baileycg@marshall.edu
Phone: 304-696-2294
Dr. Charles G. Bailey, professor of journalism and mass communications, is faculty manager of WMUL-FM (88.1 MHz). Under Dr. Bailey's guidance Marshall University's radio station and its student broadcasters have won more than 1,400 awards since 1985. In 2013,
Dr. Bailey was inducted into the West Virginia Broadcasting Hall of Fame. Also he received the Lifetime Achievement Award from the West Virginia Associated Press Broadcasters Association during the WVAPBA Convention in Huntington in 2007 and was recognized by the College Media Advisers, Inc. with the 1995 Distinguished 4-Year Broadcast Adviser Award.