MOVC Team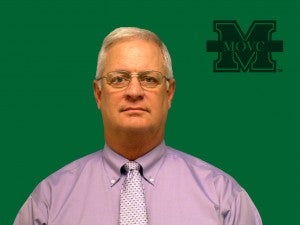 Homer Preece is the Director of the Mid-Ohio Valley Center. The Mid-Ohio Valley Center is a branch campus center of Marshall University and is affiliated with the Office of Continuing Outreach and Continuing Studies. Not only does Homer serve as the Director, but he is also an adjunct faculty member of three departments on campus, Adult and Technical Education, Management, Marketing, and Physical Education. Homer is a Marshall graduate with a Bachelor of Arts degree in Education, a Master of Science degree in Occupational Safety and Health Management, and an Educational Specialist degree in Adult Education. Since moving to Mason County in 1972 Homer has served in a variety of professional organizations including; National Business Education Association, Southern Business Education, West Virginia Business Education Association, Association for Career and Technical Education, Association of West Virginia Vocational Association-Business Education Division, National Association of Classroom Teachers of Business Education, American Federation of Teachers, and West Virginia Federation of Teachers. Homer has a strong commitment to community service being involved in the Mason County Chamber of Commerce, the Make-A-Wish Foundation, the American Cancer Society's Relay for life, Polymer Alliance Zone and Tech Prep. In addition he serves on the National Marshall University Alumni Board of Director. As the director, it is his desire to see the Mid-Ohio Valley Center become a multi-facility campus offering many degree programs to better serve the communities of the Mid-Ohio Valley.
Sheila Fields is the Administrative Assistant at the Marshall University Mid-Ohio Valley Center. Sheila is also a Marshall graduate with an Associate degree in Management Technology in Business Administration, a Regents Bachelor of Arts degree, a Masters in Adult Education, and an Education Specialist degree in Higher Education Administration. Sheila's primary functions at MOVC are admissions counselor, and academic advisor. Sheila will assist you in the registration of your college courses. Sheila is also the purchasing agent for MOVC and a faculty resource person. Sheila is also the instructor of 3 different departments of UNI, management, and LCOB. Sheila is also a facilitator for Nutrition and Diet Therapy.
Bravin Hughart is the I.T. consultant here at the Marshall University Mid-Ohio Valley Center. He graduated from Marshall University with a Bachelor of Arts degree in education specializing in social studies and mentally impaired special education. He also earned a Masters degree in Multi-Categorical Special Education from Marshall University. He teaches introduction to computers in the classroom and educational foundation courses. Bravin is here to meet your technology needs while attending the Mid-Ohio Valley Center campus. He is willing to answer any questions you may have or direct you to the appropriate advisor for whatever your need may be.
Roxanne Smith is a counselor with the Heart of Appalachia Educational Opportunity Center and has a full-time office at MOVC. Roxanne has a Regent's Bachelor of Arts Degree from Marshall University and has completed course work towards an M.A. in Sociology from Marshall University.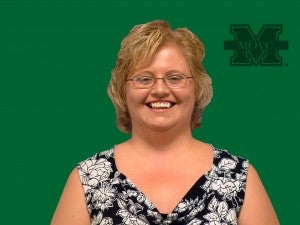 Her area of focus is education, gender, and diversity in Appalachia. She also teaches Introductory Sociology at MOVC.
If you want to further your education Roxanne can help! She can assist you with school and career selection, financial aid and scholarship information, academic advising, and GED testing and resources.
Heidi Creamer is our Graduate Assistant at the Marshall University Mid-Ohio Valley Center. She earned her Regents Bachelor of Arts degree with an emphasis in History and Psychology, and now has her Master's degree in Psychology. She is currently working on her Ed.S. in School Psychology. Heidi helps manage the office here at the MOVC, facilitates our Social Work classes, and teaches UNI 102.