Dr. Shawn Schulenberg, Assistant Professor and Director of Graduate Studies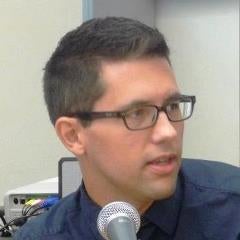 Dr. Schulenberg received his Ph.D. in Political Science from the University of California, Riverside, in 2010, the same year coming to Marshall. He was the 2012 Recipient of the Marshall University Distinguished Artists and Scholars Award (DASA).
He currently serves as Director of Graduate Studies and Interim Director of Sexuality Studies at Marshall University and Section Chair of the Politics and Sexuality Section of the Western Political Science Association. He recently served as the chair of the LGBT Caucus of the American Political Science Association and Co-Chair of the Sexuality Studies Section in the Latin American Studies Association, and Faculty-in-Residence in the First Year Residential Halls at Marshall University.
Courses Taught
Introduction to Sexuality Studies
PSC 207 – Introduction to Comparative Politics
PSC 409/509 – Western Democratic Politics
PSC 411/511 – Latin American Politics
PSC 412/512 – International Political Economy
PSC 416/516 – Politics of Development
PSC 444/544 – Dictatorship and Democracy
PSC 480/580 – Civil-Military Relations
PSC 480/580 – Politics of Economic Crises
PSC 600 – Research Design
PSC 614 – Comparative Politics Seminar
Research Interests
Dr. Schulenberg's research agenda looks at issues related to sexuality and LGBT politics in Latin America, with a focus on the counties of Argentina, Brazil, Chile, and Panama.  He has published in the Journal of Human Rights (2012) and New Political Science (2013) as well as served as a co-editor and contributor to Same-Sex Marriage in the Americas (2010, Lexington Books) and Same-Sex Partnership Recognition in Latin America (2013, Lexington Books). Finally, he also contributed a section on "Homosexuality and Transgenderism" for the textbook Politics of Latin America: The Power Game (2011, 4th edition, Oxford University Press).
Dr. Schulenberg has presented his research at meetings of the Latin American Studies Association, American Political Science Association, the Midwest Political Science Association, Western Political Science Association, as well as other regional conferences. Moreover, he has given invited presentations of his research at the University of Houston, St. John's University (MN), and the Equality Forum in Philadelphia. In the past, he has served as a blind referee for the academic journals Political Science Quarterly, Politics & Policy, and Social Policy.
Contact
Smith Hall 739A | (304) 696-2767 (email preferred)
Email | Web Site