We Are Marshall Today
2000-Present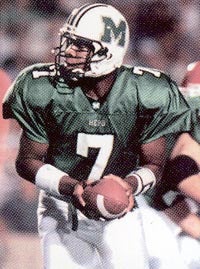 The Thundering Herd football team won its fourth Mid-America Conference title on December 2, 2000, in a home game. For the first time in league history, the MAC championship was televised on a major national network, ABC; previous champion games had been broadcast on ESPN.
Marshall faced the Western Michigan Broncos, which had defeated them earlier in conference play, 30-10, breaking the Herd's 33  consecutive home-game-record of wins.
Quarterback Byron Leftwitch led the Herd in sweet retaliation, with a 19-14 victory for the conference championship.