Reaching Out – Maturing: 1980-1989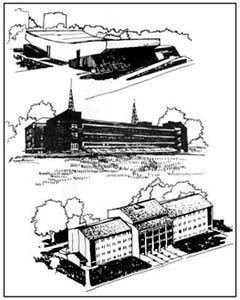 As Marshall approached its 150th year, the '80s had seen the end of one era – President Robert B. Hayes' "Decade of Progress" – and the beginning of another as Dr. Dale F. Nitzschke became the 11th president in March 1984, directing the institution toward greater service to the state and region.
One of the state's largest classroom buildings, Corbly Hall, named for the school's first president, opened. Basketball teams finally had their own arena on campus in Cam Henderson Center. A medical education building was constructed with federal funds at the Veterans Administration Medical Center in nearby Wayne County. A major addition to the Science Building was completed. A new fine arts center was built, as well as the beginning stages of a new football stadium.