Tragedy, Protests and New Horizons: 1970-1979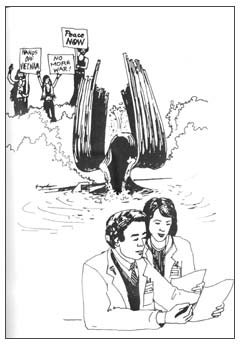 The 1970s started as a sad, troubled period, yet ended with new hope. An airplane crash took the lives of 75 people, including members of the Thundering Herd football team, coaches, supporters and crew. Students protested the war in Vietnam and rioted in the streets over drug raids. These presidents and an acting president sat in Old Main with stability finally coming to the office in the second half of the decade.
After 22 troubled-filled months in office, President Roland H. Nelson Jr. resigned in 1970. John G. Barker in 1971 was the first president to have an official inauguration. He also was the first to occupy the presidential mansion near Ritter Park.
A new student center opened and was dedicated to those who died in the airplane crash. Old Shawkey Student Union was demolished. Fairfield Stadium expansion was completed, Harris Hall and the Communications Building opened.
Dr. Robert B. Hayes, dean of the Teachers College, became president in 1974 and would serve for nine years.
The Community College was created in 1975 and the School of Medicine became a reality with the first class admitted in 1978.
The athletic program regained respectability. The 1971-1972 men's basketball team won 23 games and lost only four, rising as high as eighth in the national rankings. Marshall joined the Southern Conference in 1977 and the Herd and West Virginia University finally met on the basketball court in 1978, launching a new series of competition between the two state universities.