Tragedy, Protests and New Horizons
1970-1979



By KEITH MOREHOUSE
WSAZ NewsChannel 3 Sports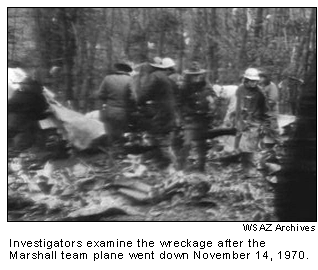 Marshall's football program has seen the best of times and the worst of times. Ironically, the celebration of a national championship in 1992 sent Herd minds racing back to the night of November 14, 1970.
The Team that Never Came Home
On a rainy night, Marshall's football team was returning home from a gut-wrenching 17-14 loss to East Carolina. The visibility problems near the Tri-State airport were compounded by a slight rain and a misty fog. Only a few hundred yards from the runway, the Southern Airways DC-9 clipped some treetops and crashed into a hillside. All 75 aboard – players, coaches, and staff members perished in the worst aviation disaster in sports history. The university and the community seemed to drift aimlessly – wondering, "can a football program come back to life after it dies"?
The Miracle of The Young Thundering Herd
There was talk within the community to forget about football, the memories too tough to handle, the games too tough to win. But Marshall pressed on, hiring Jack Lengyel from Wooster College in Ohio, to lead the Young Thundering Herd. The football season was a painful one in 1971 – loss after loss and the whispers followed. Could Marshall ever win another football game? That question was answered when the Young Thundering Herd—comprised of walk-ons, and freshman, and others who had no business playing college football—beat Xavier 15-13 on a last second touchdown pass. The players exalted on the field, the fans cried in the stands. Marshall football had withstood a devastating tragedy and resurrected itself.
The Journey Back
For years after the crash, watching Marshall play football was excruciating and painful. Thirteen straight years of losing seasons under three different coaches. In the early 1980's there was even talk of dropping the sport – the losing was habitual and seemingly irreversible. Finally, in the last game of the '84 season…Marshall was under the dome at East Tennessee State. A win would give the Herd a 6-5 season, ending years of futility. The Herd won it 31-28 and hasn't had a losing season since.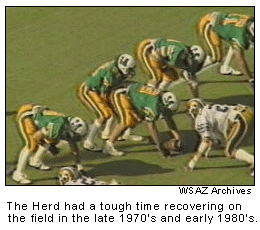 The Title Run
In fact, Marshall has played in five national championships, and won more games – 78 – than any school in America in the 1990's. The program has risen, like a Phoenix, from the ashes. A school whose football program is about celebrating victories, yet more importantly, remembering its losses, all 75 of them.