Friday, October 1, 2010
---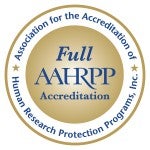 HUNTINGTON, W.Va. – Marshall University President Stephen J. Kopp today announced that the university's Human Research Protection Program has been awarded a five-year reaccreditation by the Association for the Accreditation of Human Research Protection Programs (AAHRPP).
"I could not be more pleased to announce this reaccreditation," said Kopp. "AAHRPP is the gold standard in human subject protection, so this determination of our program is indeed a significant milestone. I salute all our faculty members and staff who have worked so diligently to ensure that we meet the rigorous standards and processes established by this accrediting agency."
According to Bruce Day, director of the university's Office of Research Integrity, the designation means Marshall's program continues to meet or exceed all federal regulations regarding human subject research.
He added that Marshall University was the first institution in the state to receive this prestigious accreditation and is the first to receive a full five-year reaccreditation.
"AAHRPP reaccreditation is a reflection of the importance placed on ethical human subject research here at Marshall," said Day. "It signals to everyone, including potential research sponsors and investigators, that we put safety first and voluntarily embrace standards higher than those required by law to ensure integrity in our research programs."
Day acknowledged the members of the university's Institutional Review Boards (IRBs), particularly the chairmen, Dr. Henry K. Driscoll and Dr. Stephen D. Cooper, for their roles in ensuring comprehensive protections for research participants. All human subject research is subject to review by the university's IRB members, who represent a broad range of expertise.
Day added, "Reaccreditation was made possible primarily through the hard work and dedication of the members of our IRBs, led by Drs. Driscoll and Cooper, and our entire research faculty. It is because of them Marshall University has a stronger, more-cohesive research program committed to continuous improvement."
He also credited the university's research affiliates, including Cabell Huntington Hospital, St. Mary's Medical Center and the Huntington VA Medical Center, with much of the program's success.
Dr. John Maher, Marshall's vice president for research, said, "I applaud the Office of Research Integrity, the IRB members and our research faculty for this accomplishment. It reflects the fact that we have maintained the structure put into place to achieve accreditation initially and that we have made further significant progress to satisfy the even higher reaccreditation standards."
AAHRPP is an independent, non-profit accrediting body that works to protect the rights and welfare of research participants and promotes scientifically meritorious and ethically sound research. Accreditation means that Marshall University is part of an elite group of institutions internationally renowned as promoting exceptional ethical and professional standards in the conduct of human subject research.
For more information, contact Day at (304) 696-4303 or day50@marshall.edu.
---
Contact: Ginny Painter, Communications Director, Marshall University Research Corporation, 304.746.1964