Wednesday, August 26, 2009
---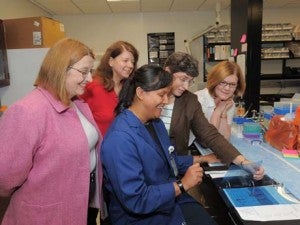 HUNTINGTON, W.Va. – A group of faculty members at Marshall University has been awarded $750,000 by the National Science Foundation (NSF) to continue a successful initiative to increase the number of female science, technology, engineering and mathematics (STEM) faculty members at the university.
Dr. Marcia A. Harrison, professor of biological sciences and the principal investigator on the grant, will use the funds to further innovative recruitment, retention and policy efforts undertaken at the university over the past three years.
The Marshall University (MU)-ADVANCE program was established in 2006 with a $1.2 million grant awarded through NSF's Advancement of Women in Academic Science and Engineering Careers (ADVANCE) program. The new funding will extend the program for two additional years.
Harrison's MU-ADVANCE co-investigators include Dr. Beverly C. Delidow, associate professor of biochemistry and microbiology; Dr. Patricia Y. Logan, associate professor of information technology and engineering; Dr. Elizabeth E. Murray, associate professor of integrated science and technology; and Dr. Judith A. Silver, professor of mathematics.
During the initial phase of the project, Harrison and her colleagues worked with teams of faculty, staff and administrators to analyze and review existing barriers to the success of female STEM faculty, and to develop new programs and policies to increase the representation and advancement of women.
"We are exceedingly pleased to have received this additional funding for our project," said Harrison. "The ADVANCE program nationally is quite competitive, so this extension demonstrates that NSF believes what we are doing here at Marshall is working. We now plan to turn our attention to sustaining our efforts long term by ensuring continued growth and institutionalization of the program."
Marshall University President Stephen J. Kopp congratulated MU-ADVANCE leaders for the recent milestone.
"On behalf of the entire Marshall University community, I salute Dr. Harrison and her co-investigators for securing this significant additional funding for MU-ADVANCE," he said. "The successes of this exemplary program in large part are due to the exceptional leadership and commitment Marcia and her colleagues have brought to this important initiative. I truly look forward to working with them to continue the momentum ADVANCE has created across our campus."
Dr. John Maher, vice president for research and executive director of the Marshall University Research Corporation, added, "Dr. Harrison and her colleagues are to be indeed commended. I've been pleased to work with them on a number of faculty development initiatives related to the MU-ADVANCE program and know firsthand how dedicated they are to this project. Their work has been truly transformative and it has been a pleasure to watch the program grow and succeed."
According to the NSF, women continue to be significantly underrepresented in almost all science and engineering fields. In fact, although 41 percent of all faculty members at Marshall are women, only 27 percent of STEM faculty members are female.
Research indicates that the lack of women's full participation in science and engineering academic careers is unrelated to their ability, interest and technical skills, but is more often a systemic consequence of the culture and organizational structure at institutions of higher education. Difficulty balancing work and family demands also plays a key role.
The national ADVANCE program supports projects, like the one at Marshall, to help institutions transform long-standing practices and academic climate that discourage women from pursuing careers in high-tech fields.
According to Harrison, the ultimate goal of the program is a change in institutional culture that will benefit all faculty members – men and women – across all disciplines and all departments. She said the strategies that work to recruit, retain and promote women in STEM academic positions also improve the situation for other underrepresented groups such as racial/ethnic minorities and people with disabilities, as well as for men who now enter the workforce with a greater interest in and expectation for work-life balance.
She added that the programs and policies developed through the MU-ADVANCE program will be shared with other institutions in the state with hopes of enabling similar transformative change on those campuses.
In addition, she said, the MU-ADVANCE goal of increasing the number of female faculty members in science and technology fields represents broader impacts both by providing much-needed role models for West Virginia's young, female students and by providing an additional economic development stimulus.
"Our programs help female faculty members balance and integrate their teaching and service commitments, while building competitive research programs," said Harrison. "This additional research activity has the potential to increase external funding, providing the region and state with economic development advantages."
Harrison's award was funded under the American Recovery and Reinvestment Act of 2009. For more information about MU-ADVANCE, contact Harrison at harrison@marshall.edu or visit www.marshall.edu/mu-advance.
Photo caption:  Working in a lab in the Robert C. Byrd Biotechnology Science Center are Marshall University faculty members, from left, Dr. Elizabeth E. Murray, Dr. Marcia A. Harrison, Dr. Piyali Dasgupta, Dr. Beverly C. Delidow and Dr. Judith A. Silver. Harrison is the principal investigator on a National Science Foundation grant of $750,000 awarded to a group of faculty members that includes Murray, Harrison, Delidow, Silver and Dr. Patricia Y. Logan, who is not pictured. Dasgupta, an assistant professor in the Department of Pharmacology, Physiology and Toxicology, is a participant in the MU-ADVANCE initiative, which benefits from the grant.

---
Contact:  Ginny Painter, Communications Director, Marshall University Research Corporation, 304.746.1964
---
Related:
Female faculty members get boost at Marshall [WV Public Broadcasting, August 27, 2009] – audio available