Tuesday, May 15, 2012
---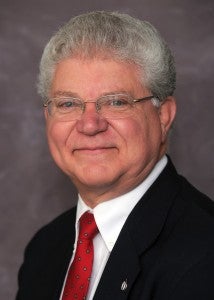 HUNTINGTON, W.Va.
– A Marshall University professor will be in Beijing this week to present his research at BIT's 5th World Cancer Congress and to meet with colleagues at a leading university.
Dr. Gary O. Rankin, professor and chairman of the Department of Pharmacology, Physiology and Toxicology at the university's Joan C. Edwards School of Medicine, will be at the conference to give a talk about his work to study how a substance found naturally in red wine can reduce some of the harmful effects of a commonly used anti-cancer drug.
According to Rankin's study conducted in cooperation with colleague Dr. Monica A. Valentovic, resveratrol, a natural component of red wine, grapes, blueberries and peanuts, can reduce toxicity to the kidney caused by the chemotherapy drug cisplatin. The work is funded by a grant from the National Institutes of Health.
"Dr. Valentovic and I are using a human kidney cell line to look into the protective effects of resveratrol," said Rankin. "We have found that the compound's powerful antioxidant properties may be important in helping to protect the kidney from cisplatin's harmful effects."
Also at the conference, Rankin will help lead a scientific session, "Cancer rehabilitation, nutrition and management of cancer related complications."
Before the meeting in Beijing, Rankin has been invited to visit the School of Biosystems Engineering and Food Science at Zhejiang University in Hangzhou, China, to give a seminar about his work in the field of chemical-induced injury to the kidney. He will describe how an agricultural fungicide, dimetachlone, which was developed in Japan and manufactured in China, causes kidney damage. He also will be presenting some of the work he and Valentovic have done on the protective effects of resveratrol on cisplatin toxicity.
Rankin will be accompanied on the trip by Dr. Yi Charlie Chen, an associate professor of biology at Alderson-Broaddus College in Philippi.
Both Rankin and Chen are lead researchers in the West Virginia IDeA Network of Biomedical Research Excellence—a federally funded program to help build biomedical research expertise across the state. Rankin is the principal investigator of the project and Chen is on the steering committee.
For more information, contact Rankin at (304) 696-7313 or rankin@marshall.edu.
---
Contact:
Ginny Painter
, Communications Director, Marshall University Research Corporation, 304.746.1964