Thursday, September 30, 2010
---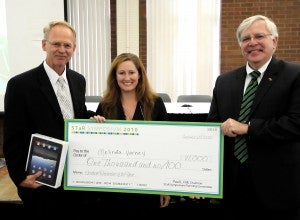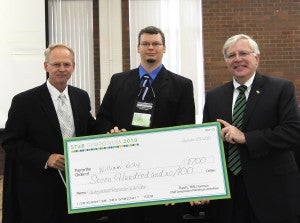 HUNTINGTON, W.Va. – Marshall University student researchers captured first place in both categories of a competition held earlier this week in Huntington in conjunction with the third statewide STaR (Science, Technology and Research) Symposium.
Melinda E. Varney, a biomedical sciences Ph.D. student from Huntington, was recognized as the "Graduate Researcher of the Year" for her work suggesting that genes involved in engineering bone and processing of fatty acids have a significant influence on bone marrow cells. She received a check for $1,000 and an iPad as her prize.
William A. Kelly, who conducted his research as an undergraduate biology major, was named "Undergraduate Researcher of the Year." Kelly, who is also from Huntington, received $700 and an iPad for his project focused on strategies for increasing biofuel production from microalgae.
Varney and Kelly were among more than 100 undergraduate and graduate researchers who entered the competition this summer by submitting abstracts describing their work. Entries were received from students at nine colleges and universities in West Virginia. From those entries, 24 finalists were selected to display posters featuring their research findings at the symposium, which was held Sept. 26-28 on the Marshall campus. The finalists also gave a short presentation to a panel of judges. All the students are conducting their research under the mentorship of a faculty member.
Varney's mentor, Dr. Vincent Sollars, an assistant professor of microbiology, immunology and molecular biology, said, "The project Mindy has devoted her graduate research to has been a particularly long and involved genetic study that has focused our increasing understanding of leukemia. I was heartened to see her hard work received well at the symposium."
Varney attributed her successful entry in large part to the support of Marshall faculty and staff, as well as that of her fellow students. She expressed particular appreciation to Sollars and her sponsors.
She added, "I feel extremely honored and grateful. I have tremendous gratitude for those who have guided and supported me along the way. The NASA West Virginia Space Grant Consortium has sponsored my work with multiple fellowships. Their investment has provided me with abundant opportunities to succeed."
Dr. Jagan Valluri, Marshall professor of biological sciences and Kelly's faculty mentor, says undergraduate research is invaluable for students.
"From my experience, involving undergraduates in original research allows them to gain important lab skills, along with knowledge of research design and making presentations at scientific meetings," he said. "Over the years, I have mentored dozens of students who went to graduate school and to work for biotechnology companies because of the research experience and skills they gained as undergraduates."
Kelly agreed, saying, "The symposium was an amazing opportunity to network with student and faculty researchers from other universities in West Virginia. I look forward to attending the event again in the future."
Kelly thanked Valluri and his co-investigators, fellow students Jacob Eller, Evan Riley and Jacob Miller, for their support of his research.
"Without Dr. Valluri's excellent assistance throughout my undergraduate experience, I would never have taken the path into research," he added.
Runners-up in the student research competition were Heaven Oliver-Kozup of West Virginia University in the graduate student category and Kiril Tuntevski of the University of Charleston in the undergraduate student category. They received prizes of $750 and $600, respectively.
The biennial StaR Symposium is hosted by the West Virginia Higher Education Policy Commission. This year's program focused on the national and state outlooks for science, technology and research; technology-based economic development; cutting-edge research and infrastructure; and commercialization of intellectual property. The symposium's theme, "Sustainability: How Science, Technology and Research Can Sustain Our Future," was carried throughout panel discussions on energy, the environment, cyberinfrastructure and the economy.
For more information about the STaR Symposium or the student poster competition, contact Jessica Tice at (304) 558-4128, ext. 6, or jessica.tice@wvresearch.org.
Caption for photos: Marshall University student researchers Melinda E. Varney and William A. Kelly pose for photos with Dr. Paul Hill (left), vice chancellor for science and research with the West Virginia Higher Education Policy Commission, and (right) Marshall University President Stephen J. Kopp. Varney was recognized as the "Graduate Researcher of the Year" and Kelly was named "Undergraduate Researcher of the Year." Photos by Rick Haye/Marshall University.
---
Contact: Ginny Painter, Communications Director, Marshall University Research Corporation, 304.746.1964