Friday, February 19, 2010
---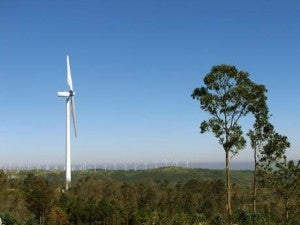 HUNTINGTON, W.Va. – Marshall University's Center for Environmental, Geotechnical and Applied Sciences (CEGAS) and the West Virginia Brownfields Assistance Center at Marshall are partnering with the West Virginia Division of Energy (WVDE) Office of Coalfield Community Development on a project to demonstrate renewable energy applications on surface-mined properties.
Dr. Tony Szwilski, director of CEGAS, said the goal of the project is to encourage the reuse of West Virginia's surface-mined land, whether through the direct development of renewable energy projects or by growing crops used by the energy industry.
"West Virginia has a mandate to significantly increase the production of renewable energy in the state," he said. "With this project, Marshall University is taking a leading role in assessing wind, solar and biomass energy resource potential on surface-mined lands. It is an important project and one in which we are pleased to be a key player."
A total of $500,000 in state and federal funding is being provided for the project, including $400,000 from the Appalachian Regional Commission and $100,000 from the WVDE.
According to Szwilski, CEGAS will be conducting two separate initiatives—the first will assess and advance wind energy opportunities, and the second will encourage sustainable biomass, wind and solar energy applications.
For the first initiative, CEGAS will use state-of-the-art Sonic Detection and Ranging (SODAR) equipment to perform wind measurement studies to help identify promising wind energy sites in counties with substantial surface-mined properties. The scope of work also includes developing public-private partnerships with landowners/operators interested in commercial wind development, identifying permitting issues and assisting with marketing selected sites.
Through the second initiative, CEGAS will administer a grant program to support renewable energy projects on surface-mined land. As many as six competitive grants of up to $50,000 each will be awarded to projects with the potential to yield sustainable biomass energy production, wind generation of electricity, and solar photovoltaic and concentrated solar power applications.
Examples of fundable projects include demonstration plantings of biomass energy crops like switchgrass, a small wind or solar system for classroom instructional purposes, and solar- or wind-powered generation as a backup energy source for an industrial park built on a reclaimed mine site.
Each grant will require a 50 percent match and will have an 18-month timeframe for completion. The WVDE will make the final determination on project funding.
Szwilski said project results will be useful in determining future alternative energy development across the state.
Results will be made available on the Web sites of the West Virginia Division of Energy (www.energywv.org) and the West Virginia Brownfields Assistance Center (www.wvbrownfields.com).

---
Contact: Ginny Painter, Communications Director, Marshall University Research Corporation, 304.746.1964