---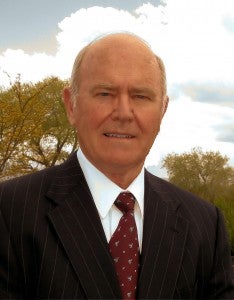 HUNTINGTON, W.Va. – The role and limitations of science and technology in addressing security challenges facing the human race will be the focus of an upcoming program featuring internationally recognized counterterrorism expert Houston T. "Terry" Hawkins, senior fellow and director of Department of Defense Programs at Los Alamos National Laboratory.
The event, which is the first in a series of public seminars to be hosted by the Marshall Institute for Interdisciplinary Research (MIIR), will take place Thursday, Sept. 17, at the St. Mary's Center for Education at the corner of 5th Avenue and 29th Street in Huntington. A reception will be held from 5:30 to 6:30 p.m. The program will begin at 6:30 p.m.
A retired U.S. Air Force colonel, Hawkins has been at Los Alamos since 1988. He is a widely recognized specialist on modern terrorism – particularly terrorism involving the potential use of weapons of mass destruction – and has given invited lectures worldwide.
At Los Alamos, he has led major scientific and technical programs aimed at detecting, preventing and reversing the proliferation of weapons of mass destruction and the use of those weapons by international terrorists.
"Col. Hawkins is the perfect guest to kick off our seminar series about the relationship among culture, technology and society," said Dr. Eric Kmiec, director of MIIR and the institute's lead research scientist. "From research on biological agents like anthrax and viruses like the flu to cyberwarfare to space exploration, he has experience on the front lines of some of the most pressing public safety issues of our time. I have heard him speak before and our audience is in for a fascinating, thought-provoking program."
Hawkins has received numerous awards and recognition for his work, including the Chief Justice Earl Warren Medallion, the Aviation Week and Space Technology 2000 Laurel Award, the Valley Forge Freedoms Foundation Medal, the Legion of Merit, two Defense Superior Service medals, two Air Force Superior Service medals, an Air Force Commendation Medal and numerous other service medals.
He has earned degrees from Clemson University, the National Defense University and LaSalle Extension University School of Law.
Co-sponsors of the event include Huddleston Bolen LLP and St. Mary's Center for Education.
The program is free and open to the public. Reservations are requested.
For more information or to make reservations, contact Keely Martin at martin192@marshall.edu or 304-696-3830.
MIIR was created through the state's "Bucks for Brains" research trust fund. The institute's goal is to become a self-sustaining enterprise through entrepreneurship and commercialization of scientific discoveries, while enhancing economic development, advancing intellectual infrastructure and increasing employment opportunities in the state and region.

---
Contact:  Ginny Painter, Communications Director, Marshall University Research Corporation, 304.746.1964
---
Related:
Research lecture series kicks off [Herald-Dispatch, September 18, 2009]
Terrorism expert to speak at Marshall seminar  [WV Public Broadcasting, September 15, 2009] – audio available