Wednesday, June 13, 2012
---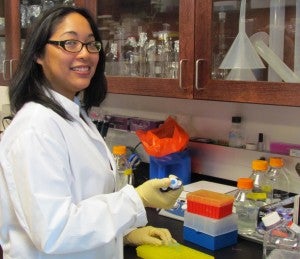 HUNTINGTON, W.Va. – A Marshall University doctoral student will present her diabetes research next week at a conference focusing on the central nervous system.
Aileen Marcelo, a Ph.D. candidate in the university's biomedical sciences program, will present a poster at the Barriers of the Central Nervous System Gordon Research Conference and will give a talk at the conference's student seminar. The conference and seminar will be held June 16-22 at Colby-Sawyer College in New London, N.H.
The conference will bring together clinical and basic scientists who are at the forefront of research into the system of regulatory interfaces between the blood and brain. This system is essential to brain function and has a major impact on the course and treatment of many neurological conditions, including stroke, Parkinson's disease, multiple sclerosis, Alzheimer's disease and epilepsy.
Although there is considerable scientific evidence implicating diabetes as a major risk factor for many central nervous system diseases, there have been few studies investigating the effects of diabetes on this blood-brain barrier. Marcelo's research project, "The Role and Regulation of Vascular Endothelial Growth Factor (VEGF) at the Blood-Brain Barrier (BBB) in a Rat Model of Diabetes," explores this connection.
She works in the lab of Dr. Richard Egleton, assistant professor in the Department of Pharmacology, Physiology and Toxicology at the university's Joan C. Edwards School of Medicine.
Marcelo recently received one of eight Summer Thesis Research Grant Awards presented to outstanding graduate student researchers at Marshall. Each award provides $500 to cover the cost of expenses associated with thesis research. Award recipients were chosen on the basis of the quality and significance of their thesis research, the likelihood that the research will eventuate in a completed thesis and justification of the need for support. Funding for the awards was provided by the Marshall University Research Corporation.
---
Contact: Ginny Painter, Communications Director, Marshall University Research Corporation, 304.746.1964