Monday, Feb. 13, 2012
---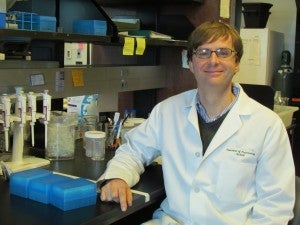 HUNTINGTON, W.Va. – A Marshall University researcher has been awarded a one-year, $60,000 grant from the Pharmaceutical Research and Manufacturers of America (PhRMA) Foundation.
The grant to Dr. Travis Salisbury, an assistant professor in the Department of Pharmacology, Physiology and Toxicology at the university's Joan C. Edwards School of Medicine, will help further his work to better understand the connections between obesity and cancer.
According to Salisbury, epidemiological reports have shown that obesity increases human risk for several types of cancers but scientists are not really sure why. His lab is exploring one possibility.
"Our data shows that adipocytes, or fat cells, secrete factors that stimulate human breast cancer cells to grow rapidly," said Salisbury. "We have discovered that blocking the activity of a specific receptor—the aryl hydrocarbon receptor or AHR—in the cancer cells reduces their capacity for growth in an adipocyte-rich environment."
He said the study funded through the grant will focus on this link between adipocyte-supported cancer growth and the AHR.
"For several decades, AHR has been studied for its roles in toxicology; however, our recent work suggests that this receptor could be a new therapeutic target for treating cancer in the context of obesity," he said. "It is quite exciting to think that our findings will provide not only a better understanding of the relationship between obesity and increased cancer risk, but may also suggest future treatments for cancer."
For more information, contact Salisbury at salisburyt@marshall.edu or (304) 696-7314.
---
Contact:  Ginny Painter, Communications Director, Marshall University Research Corporation, 304.746.1964
---
Related:  Scientist receives $60K to study cancer [WV Public Radio:  Feb. 21, 2012] – audio available