Welcome to the Jazz Studies webpage for Marshall University! Here you will find information on our concert series, our jazz festival, and information regarding admission into our program.
Click the link below to register.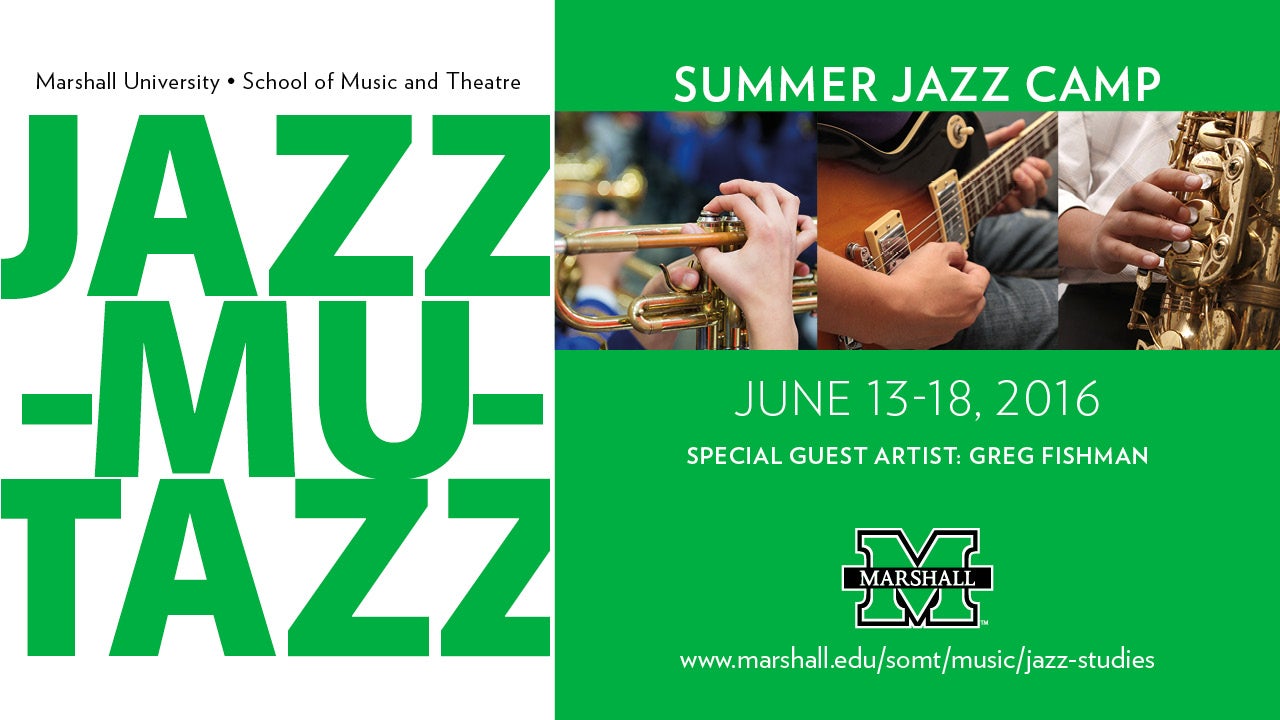 More materials coming soon.
Faculty: Martin Saunders, Director, Jeff Wolfe, Jesse Nolan, Ed Bingham, Steve Hall, Steven Heffner, Ben Miller, Jeffrey Thomasson, and Rob Wray
As a Jazz Studies major at Marshall University, you will be provided the tools necessary to succeed as a jazz musician in the rigors of today's music scene. We offer degrees at both the Undergraduate and Graduate levels. Marshall University offers 13 courses in jazz studies that focus on performance, arranging and history:
 Classes in Jazz Studies
Jazz Improvisation I-IV
Jazz Theory
Jazz Arranging
Jazz History
Studio Lessons
Jazz Ensembles
Jazz Combos/Small Group/Rock Band
Jazz Literature
Jazz Pedagogy
Jazz Styles
Jazz Class Piano
Marshall University Jazz Audition Requirements
If you have any questions regarding the required material for the jazz audition, (piece specifics, finding copies of the required music, etc) please contact Dr. Martin Saunders.
Jazz (non-rhythm section)
Major scales, two octaves.
One blues in a key selected by student. Perform both melody and improvisation. May use play-along recording. Suggested blues include C Jam Blues, Straight No Chaser, Now's the Time, Sonnymoon for Two, Billie's Bounce, etc.
One jazz standard. Perform both melody and improvisation. May use play-along recording. Suggested standards include Take the A Train, Autumn Leaves, Blue Bossa, Oleo, All The Things You Are, Body and Soul, Summertime, Stella By Starlight, etc.
One jazz solo transcription (written out solo performed by a reknowned jazz musician). Solo may be transcribed by student or purchased. Student should consider the style and inflection that is demonstrated by the solo artist.
Jazz (Piano and Guitar)
Same as above but comp (play harmonies) for one chorus after playing the melody and before soloing.
Jazz (Bass)
Same as above but walk a bass line for one chorus play the melody and before solo. Miles Davis' "So What" is a good jazz standard for bass.