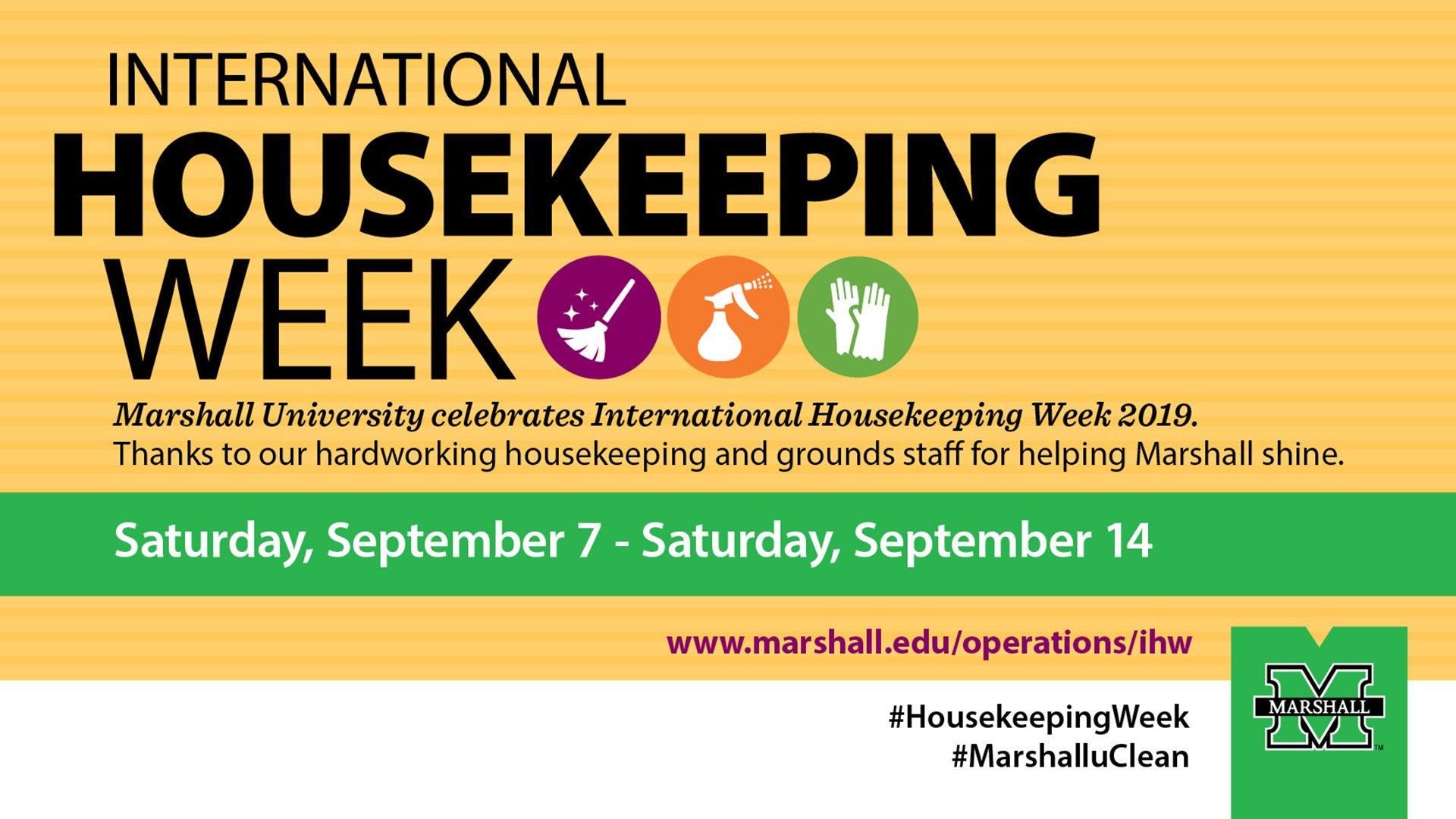 International Housekeeping Week is September 7-14, 2019. Each year, we take time to honor our year-round heroes of Housekeeping.
---
Schedule of Events
Saturday, Sept. 14: Marshall vs. Ohio football game // 6:30 p.m.
Each honoree is invited to receive two free tickets to the game, courtesy of Marshall Athletics. They can be picked up from Casey Hall in Room 2W20 of the Memorial Student Center, beginning the week prior to the game. For those who are Marshall University employees, bring your MU ID. For employees of Aetna or the MU Rec Center, please bring valid employment IDs.
Monday-Friday, September 9-13: Be a Housekeeper for a Day
University employees will have the chance to trade places with one of our hardworking housekeepers for the day. Interested in honoring your favorite housekeeper? Sign up today to assist them with their daily duties.
Friday, September 13: Thank a Housekeeper Cookout // 12 to 2 p.m., Student Center Plaza
Housekeeping and grounds staff, come enjoy a taco bar, cake and cookies as a thank you for your hard work. Students and employees, make sure to sign the International Housekeeping Week banner and let our housekeepers know how much you appreciate them.
---
Honoring the Heroes of Housekeeping
Want to do something special for the housekeeper in your building or on your floor? We encourage all of our campus community members to take time during the week of September 8-14 to do something thoughtful for their designated housekeeper.
Ideas on How to Honor Your Housekeeper:
Take 5 minutes to write a note of appreciation to your designated housekeeping staff. You can request a branded "International Housekeeping Week" thank you card by contacting melanie.chapman@marshall.edu.
Join with others in your department to purchase a gift for your designated housekeeper (Limit to $25).
Sign the International Housekeeping Week banner with a note of appreciation. The banner will be available for signing in the MSC Plaza.
Pick up after yourself. We know that your office can get a little messy, so why not take this week to clean up after yourself so they don't have to?
Take a moment to stop and talk to them. Ask them about their day, why they do what they do and how you can make their jobs easier. They have some of the dirtiest jobs on campus (quite literally) and we should appreciate the effort they put forth to keep this campus clean and beautiful.
#MarshalluClean #HousekeepingWeek