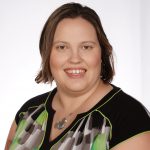 Brittany Riley, Pharm. D., BCPS
Clinical Assistant Professor
Phone: 304.696.7305
Email: warrick2@marshall.edu
Dr. Riley received her doctor of pharmacy degree from the University of Kentucky in 2010. After graduation, she completed a pharmacy practice residency at Cabell Huntington Hospital in Huntington, WV. Dr. Riley is currently working on completing a Master's degree in Clinical Toxicology through the University of Florida. Dr. Riley is certified in Basic Life Support, Advanced Cardiovascular Life Support, and Pediatric Life Support. Dr. Riley achieved board certification in pharmacotherapy in 2012.
Dr. Riley has previously been employed at King's Daughter's Medical Center, and most recently as an Assistant Professor/Emergency Medicine Clinical Specialist with the University of Charleston and Southern Ohio Medical Center.
Dr. Riley is an active member of many local and national organizations. She is a member of the American Society of Health-System Pharmacists (ASHP), the American College of Clinical Pharmacy (ACCP), the American Pharmacists Association, the Society of Critical Care Medicine, and the West Virginia Society of Health-System Pharmacists (WVSHP). She currently serves as chair for WVSHP's New Practitioner's Committee and as a co-chair for the Education committee. She also serves on ASHP's Section Advisory Group on emergency care and various committees with the ACCP Emergency Medicine and Education and Training Practice and Research Networks.