Dr. Tim Long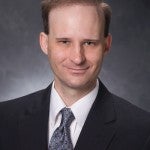 Tim Long, Ph. D.
Assistant Professor
Phone: 304.696.7393
Email: longt@marshall.edu
Dr. Long received his B.S. in Biology and Ph.D. in Chemistry from the University of South Florida. He then moved to the University of Notre Dame as a postdoctoral research associate before joining the Department of Pharmaceutical and Biomedical Sciences in College of Pharmacy at the University of Georgia. In 2013, he joined the Department of Pharmaceutical Sciences and Research in the School of Pharmacy at Marshall University where he currently teaches courses and performs research in the area of infectious disease.
Dr. Long's research focuses on the discovery and development of therapies to treat or prevent infection. Classes of compounds that antagonize vital and microbe-specific targets with minimal host toxicity are of primary interest. In one project, redox-inactive antagonists of protozoal-specific ubiquinones that have electrostatic attraction for negatively-charged mitochondrion in parasitic organisms are under investigation. The central hypothesis is that the cationic inhibitors of electron transport will demonstrate enhanced therapeutic efficacy resulting from their charge-mediated accumulation in the mitochondrion. As the epidemiology of parasitic diseases (e.g., malaria, trypanosomiasis) is highest in low-income regions, careful considerations are given to the cost-effectiveness of the inhibitor designs. Therefore, Dr. Long's research also involves the development of new methodologies aimed at improving reaction yields and reducing the rigors of performing various synthetic transformations.
Additional research projects ongoing in his lab include the evaluations of constrained cationic peptides as antibacterial agents and prodrugs of alkylating agents as antineoplastic drugs.