Dr. Robert W. Behrman, Professor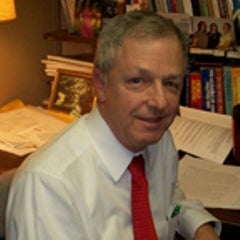 Dr. Behrman received his Ph.D. in Political Science from Indiana University in 1986. He came to Marshall in 1988 from Berea College and is currently Professor of Political Science. In 2004 he won the College of Liberal Arts Outstanding Teacher Award and is currently the advisor for the Marshall Libertarians.
Courses Taught
PSC 104 – American National Government and Politics
PSC 376 – Black Politics
PSC 436/536 – The American Judiciary
PSC 460/560 – Civil Rights and Liberties
PSC 484/584 – Constitutional Law
PSC 417/517 – Homeland Security and Civil Liberties
PSC 499 – Capstone Project (with Dr. Brown)
Research Interests
Dr. Behrman is interested in Canadian politics and issues surronding the death penalty. His article "Capstone for Political Science Majors: The Content is the Service" (with Cheryl Brown) was published in the 2008 Fall/Winter issue of Journal of Public Affairs Education (JPAE 13(3/4):585-591).