Fall Field Training Exercises were conducted at Point Pleasant, WV on  21-23 October 2012.  During which the Cadets received training in Squad Tactics, Patrolling, Land Navigation, and general field exercises. Over 120 Cadets participated in this event, with the entire ROTC cadre in support as well as some National Guard personnel.
The training was fueled to teach and prepare Cadets for the yearly "Warrior Forge" training cycle, conducted at Fort Lewis, Washington during the summer. This course was formerly known as LDAC and is designed to develop and assess the leadership abilities of Advanced ROTC Cadets this is the mandatory training phase for all ROTC commissioning Army and Nursing cadets in the program.
MSG Heavener teaches cadets the procedure for engaging targets.
MSIV cadets brief MSIII's how to set up and conduct a STX or patrolling lane.
A Cadet familiarizes himself with the M249B Automatic rifle before he fires it.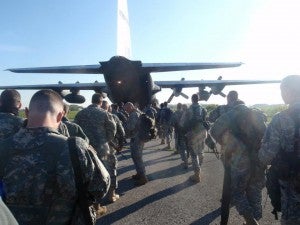 Cadets Load into a C-130 Hercules for a ride, compliments of the WV Air National Guard.
LTC Stinnett Contracts Cadets Valluri, Blakely, and Newsome, these Cadets are now on Commissioning track.