EcoCycle Bike Loan
The Marshall Eco Cycle Bike Loan Program is located inside the Recreation Center, and runs March 1st to November 30th each year.
Open to all Marshall Students – Faculty – Staff – Rec Center Members with a valid Marshall University ID.
Checkout of Biking Equipment  is "FREE"!
Participants must present Marshall ID and a Debt/Credit Card to check out the equipment. Participants may ride bicycles around the Huntington Campus or throughout the City of Huntington.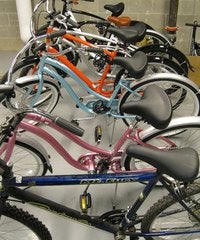 Standard Hours:
Monday – Friday:  7:00 am – 7:30 pm
Saturday:  10:30 am – 7:30 pm
Sunday:  1:30 pm – 7:30 pm
Spring, Winter, and Summer Break Hours:
Monday – Friday:  7:00 am – 7:30 pm
Saturday:  10:30 am – 7:30 pm
Sunday:  1:30 pm – 5:30 pm
---
Check out our second MU Sustainability Department video:
Reduce Your Carbon Footprint by borrowing a bike for free through the Eco Cycle Bike Loan Program

Our Sustainability videos are on Marshall's Youtube page at http://www.youtube.com/user/HerdVideo.
We look to create a new Sustainability video each month! Future Sustainability segments will include the Recycling program, the Sustainability Gardens, Energy Efficiency, and more! We'd like to thank University Communications for all their help with our Public Relations efforts.
---
EcoCycle Bike Loan program is closed during the months of December, January, and February.
All bikes must be returned and checked-in THE SAME DAY before the end of Eco Cycle hours.  Late bikes will result in loss of rental privileges upon second offense.
All bikes, locks, and helmets checked-out must be checked-in and inspected for damage by a Recreation Center staff member prior to the renter leaving the premises.
Damage to the bicycle and/or abuse of the program guidelines will result in loss of Eco Cycle privileges, fines, and/or a charge for the replacement cost of the bike.
Bicyclist shall be responsible for any damages to the Eco Cycle equipment and shall be billed accordingly resulting from bicyclist's negligent or wrongful use or operation of the equipment.  Such damages shall include, but are not limited to, repairs, parts, and replacement costs.  By signing this agreement, bicyclist shall grant permission for Marshall Recreation Center to charge the renters credit card in the full amount of all damages as outlined in the fee schedule below.  (Bicyclist shall not be responsible for damages resulting from normal wear and tear.)
Eco Cycle Replacement/ Damaged Fees
Lost/ damaged Bike Lock Key $35 fee
Lost/ damaged Bike Lock $35 fee
Lost/ damaged Helmet $45 fee
Lost/ damaged beyond repair/ stolen Bicycle:  Full replacement cost of Bicycle
Damage to Bicycle fee (due to negligence or misuse):   Costs for parts and labor