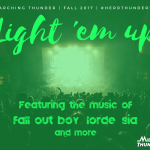 Announcing our fall 2017 production – "Light 'Em Up!"
This fall, the Marching Thunder will present "Light 'Em Up" featuring the music of Fall Out Boy, Lorde, Sia and more. The band will LITERALLY light up the field with sound and visuals through the use of both live and electronic music.
Music will be arranged by Tim Snyder and Aaron Statler. Adam Dalton will design the drill.
Do NOT miss halftime this fall as the Marching Thunder presents marching band like you've NEVER seen before! Get ready to LIGHT UP THE JOAN!
The Marching Thunder will also bring you special halftime productions for the Homecoming Game and Veterans Day Game!
Click here to download a cover photo for your Facebook page!