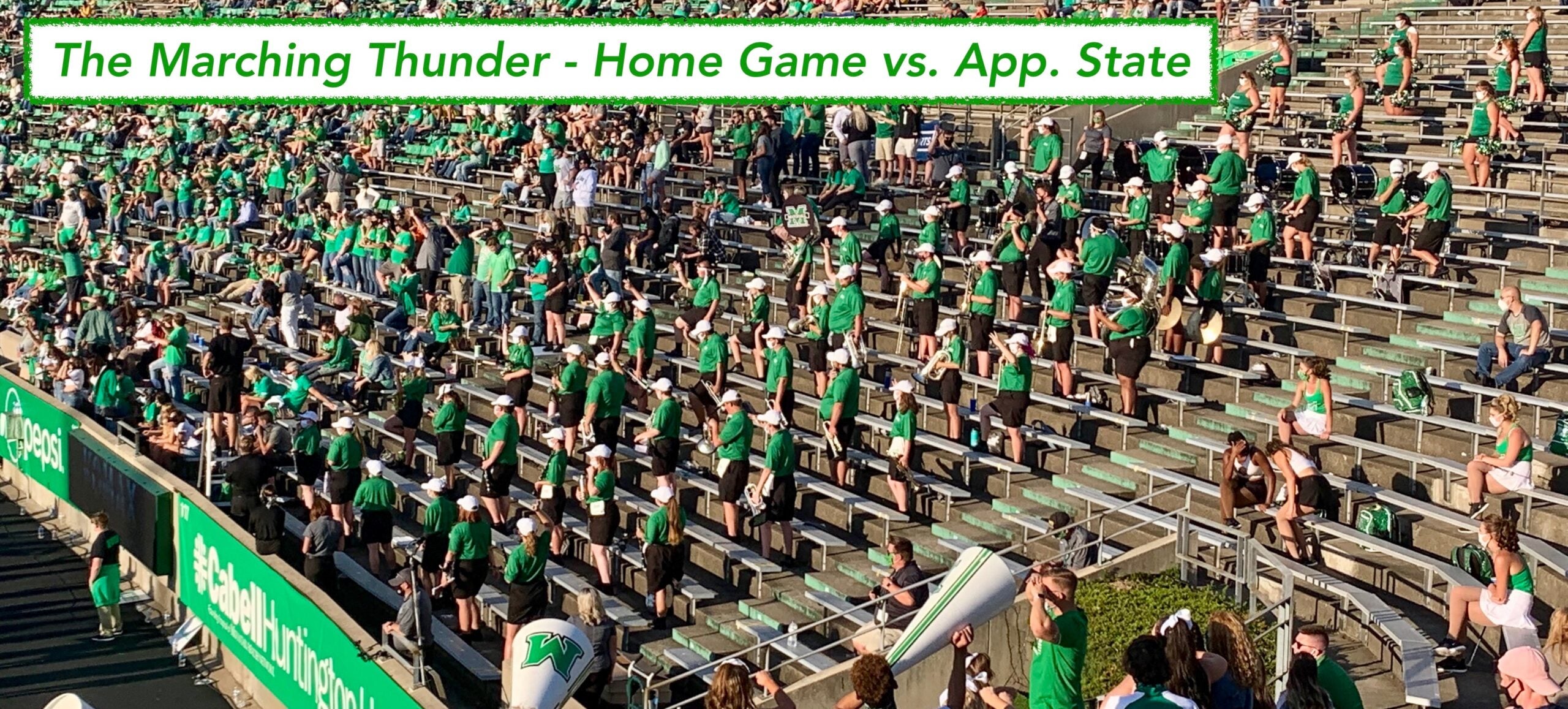 Thundering Herd vs. Appalachian State, Sept. 19th 2020
Percussion Coordinator
Chad was born and raised in Huntington, WV. He graduated from Spring Valley High School before attending Marshall University as a print journalism major. Chad has taught with Cap City Percussion for four seasons. During that time the group has made WGI World Championship Finals the past three seasons. Locally he has taught and arranged for Hurricane High School, Spring Valley High School, Cabell Midland High School, Huntington High School, South Point High School, and Rock Hill High School. Chad has also taught at Westland High School in Galloway, OH. 
As a performer, Chad spent four seasons with Spring Valley's marching band, three seasons with the Marshall University Marching Thunder where he was center snare and section leader, and a season with the Glassmen Drum and Bugle Corps as a DCI World Championship finalist. Chad also was able to tour in Belgium, England, France, and the Netherlands with the Glassmen. 
Chad is very excited and humbled with the opportunity to serve as percussion coordinator at Marshall University as he and his staff start their journey with the program.
Percussion Instructor

Sean McCallister is a native of Barboursville, WV and attended Cabell Mid-land High School. Sean began his percussion career in the spring of 2006, playing Vibraphone for The Optima Indoor Percussion Ensemble. Since then he has been active in and around the Huntington/Tri-State area as performer, educator and adjudicator. Sean attended Marshall Uni-versity, where he studied music and education. While at Marshall, Sean was a member of the Marshall University Marching Thunder Drum line from 2009-2011, as well as a member of both Marshall University Symphonic Band and Wind Symphony where he spent time as the principle percussionist in both ensembles. Sean was a member of Tates Creek Indoor Ensemble playing Vibraphone, where he aged out of WGI in 2014.
Since 2009, Sean has been a percussion instructor at Hurricane High School in Hurricane,West Virginia, where he took over as Percussion Caption Head/Arranger in 2011. Beyond teaching at Hurricane, Sean also instructed South Indoor Percussion for their inaugural season as an Independent A class ensemble, making finals, as a Front Ensemble Instructor. In the fall of 2016, Sean was certified as a percussion adjudicator for the Cavalcade of Bands circuit.
Sean currently resides in Huntington, WV and is working towards his Masters of Arts in Teaching degree through Liberty University.
Majorettes and Feature Twirlers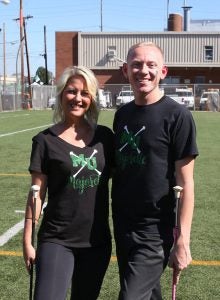 Kim Maynard – Coordinator
Kimberly Reese Maynard is a Marshall Alumni from Montgomery, West Virginia. She was a Feature Twirler at MU from 1992-1995 and has taught the majorettes and twirlers since 1998. Kim is a Speech Language Pathologist working for the Wayne County Board of Education.
Adam Abshire – Assistant Coach
Adam Chapman is a Marshall University Alumni, a native of Huntington, West Virginia, and has been part of the Marching Thunder for 15 years. Adam was a Marshall Majorette and Feature Twirler from 2006-2011. Adam has been one of the coaches for the Marching Thunder majorettes and twirlers for 10 seasons. Adam's full-time career is a Director of Financial Aid in Ashland, KY.
Color Guard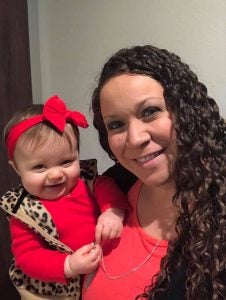 Maurica Smith – Coordinator
Maurica Smith is from Ashland, KY and graduated from South Charleston High School, South Charleston WV. Maurica spent five seasons with the Marshall University Marching Thunder where she served as color guard captain for three years, one of which she was also the choreographer. Maurica graduated from Morehead State University with a BA in Elementary Education and Marshall University with a BA in Retail Merchandising. Maurica is also the founder, director, and main choreographer of Vertigo Winter Guard, Huntington, WV.
Maurica began her color guard career in junior high and has been involved in the color guard and winter guard activities for twenty-one years. She has marched with Zydeco World Class Guard, Dayton OH, Capital Regiment World Class Drum and Bugle Corps, Columbus OH, Expressions Winter Guard, Winchester KY, South Charleston High School band, South Charleston WV, and Dunbar Junior High School band, Dunbar WV.
Locally, Maurica has previously taught and choreographed at Spring Valley High School, Huntington High School, Paul Blazer High School, South Charleston High School, and Green High School. She was a guest dance choreographer for Troopers Drum and Bugle Corps for the 2016 season. Maurica was also previously the weapons choreographer & tech for St. Albans High School, Hurricane High School, Reflections Winter Guard, Movimiento Expressivo Winter Guard, Russell High School Winter Guard and flag choreographer & tech for Z Winter Guard.
Maurica is excited to spend another season with the Marching Thunder!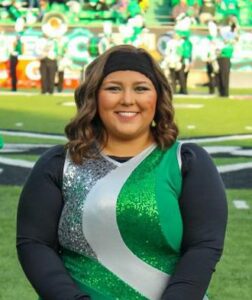 Megan Reynolds – Instructor
Megan is from Huntington, WV where she graduated from Huntington High School. She is currently majoring in Early Childhood Education at Marshall University. Megan has been a member of the Marching Thunder for 4 years, Vertigo Winter Guard, and at Huntington High School in the Marching Highlanders!
Megan is so excited and blessed to spend the season alongside Maurica Smith!
Graduate Teaching Assistants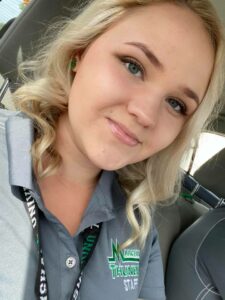 Bailey Wanger
Bailey Whanger, a native of Hurricane, West Virginia, is currently living in Huntington pursuing a MAT degree in music education from Marshall University. Bailey is a 2020 graduate of MU with a BFA in music composition and theory.  Her pieces have been performed at Society for Composers, Inc. (SCI) concerts at Marshall University, the Phi Mu Alpha American Music Concert, the Marshall University Woodwind Concert, the West Fork New Music Festival, and at the WVU SCI Composers Invitational. Bailey has also been involved with multi-media collaborations with the Florida School of the Arts' dance studio.
While an undergraduate at Marshall University, Bailey was a member of the Marching Thunder, Symphonic Band, Wind Symphony, Clarinet Choir, and Double Reed Ensemble. Bailey was a member of the WGI World Class Percussion Ensemble, Cap City, in 2018.  Bailey is an active member of Delta Omicron, is a band assistant for Hurricane High School's marching band, and is the former president of Marshall's SCI chapter. Outside of music, Bailey loves to feed squirrels, spend time with her cats, Dipstick and BC, and play Animal Crossing.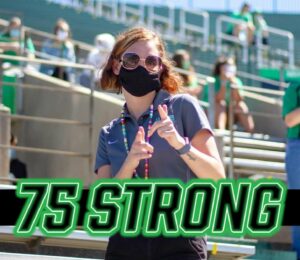 Hayleigh Barnhart
Hayleigh Barnhart is a Lucasville, Ohio native who currently lives in Huntington, West Virginia. She is an educator and performer of multiple instruments, but her main area of study is saxophone. She graduated from Marshall University in 2019 with a BA in Music. Now, she is currently a graduate student at Marshall University working to complete her Master of Arts and Teaching degree specializing in music and anticipates a spring 2022 graduation. She focuses on a wide variety of saxophones ranging from soprano to baritone. Her performing interest include jazz, classical, and contemporary music. Aside from performing and her graduate studies, she also is an active music educator finding time to substitute teach, provide clinician work at band camps, and giving private lessons.
Announcer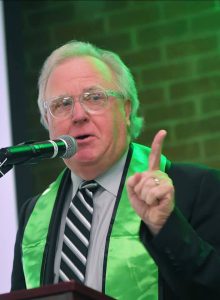 Mike Kirtner