You are invited to join the Marshall Recreation Center for the premier event of the year. RecFest is an opportunity to showcase your business or organization to not only Marshall Students, but to the entire Marshall community. This year's event will take place on Saturday, August 19th, from 12-3pm on the gym courts of the Rec Center.
RecFest is the perfect place to connect and collaborate with Huntington and to expose your brand to thousands of incoming Marshall Students.
This year's theme will revolve around the roaring 20's and we look forward to having you as a vendor at the 2023 RecFest event; reserve your space today as one of our vendors or sponsors.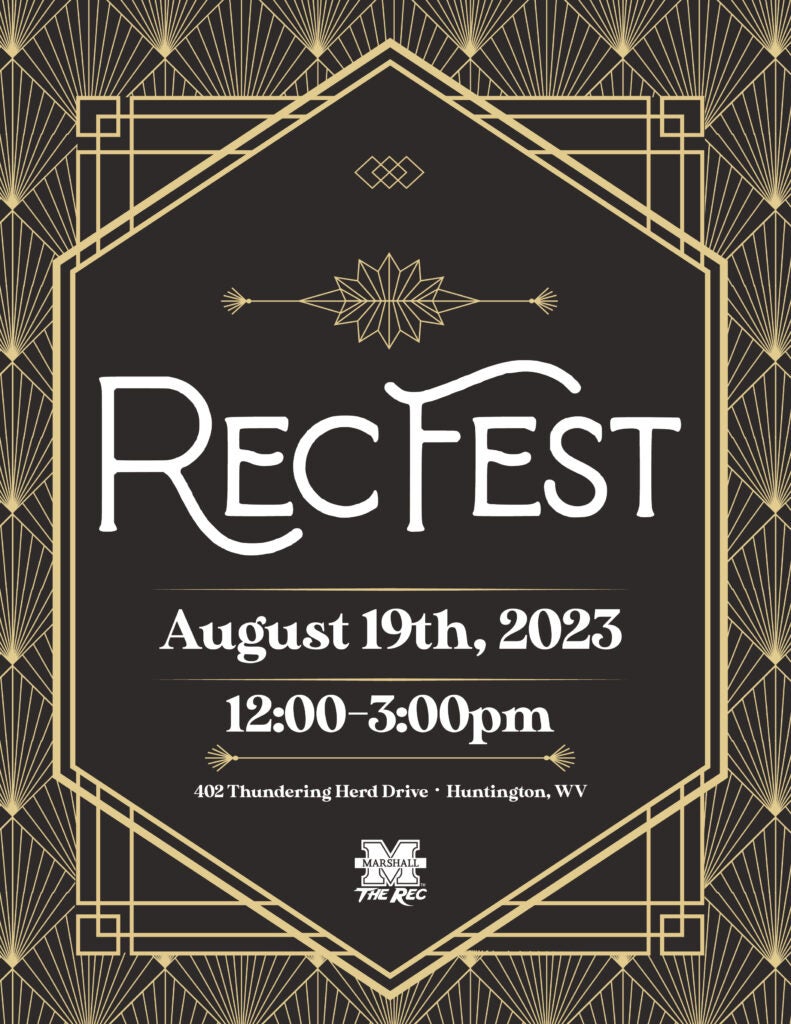 Event Details
Early Bird Registration: April 1-June 23
Standard Registration: June 24-August 16
Exhibitor "Early" Set-up: August 18 from 5pm-7pm
Exhibitor "Day-of" Set-up: August 19 from 10am-11:30am
Event Day: August 19 from 12pm-3pm
Forms
Pricing
Early Bird Rates (April 1-June 23)
Non-profit: $55
Non-Affiliate: $130
Affiliate: $30
Student/Greek: $25
Standard Rates (June 24-August 16)
Non-profit: $65
Non-Affiliate: $150
Affiliate: $40
Student/Greek: $35
*Sponsor logos & monies are due by July 17th
Other Info
Registration: Once you have completed the application form, please email it to fischer38@marshall.edu or drop it off at the Rec Center or mail it to Marshall Rec Center C/O RecFest, 402 Thundering Herd Drive, Huntington, WV 25755.
If you need an invoice to send payment, just let us know!
Booth Space: As a vendor, you will receive a 6' x 2.5' table in an 8' x 10' space. In addition, the space will be accompanied by two chairs.
Which Booth do I Purchase?
Non – Profit: Any company, business or group that is not conducted or maintained for the purpose of making a profit.
Student or Greek Organizations: Any on campus student and/or Greek Organization on Marshall University Campus.
Non – Affiliate: Any outside company, business or group that is not affiliated with Marshall University in any way.
Affiliate: Any on campus, Marshall University Department.
Facts about the Booths:
No helium balloons are permitted as a part of booth displays.
No cars, trucks, boats or any other type of vehicle are permitted to be a part of booth displays.
Any food items provided by RecFest vendors must be given away at no cost to participants.
All items that make up booth displays are subject to approval from RecFest staff.
Sales of any kind are not permitted at RecFest.
Alcoholic Beverages are not allowed at any time during RecFest.
Wireless internet will be available and the information placed on each table.
Electricity is available for those who fill out the Electricity Use form due by August 4th.
Vendors are responsible for providing any additional items for the reserve booth.
Marshall Rec Center offers incidental use of space and does not endorse any vendors participating in RecFest.
Questions
All questions regarding RecFest should be sent to Karianne Fischer, Coordinator of Marketing and Outreach. Please email fischer38@marshall.edu.
Thank you to our Sponsors!