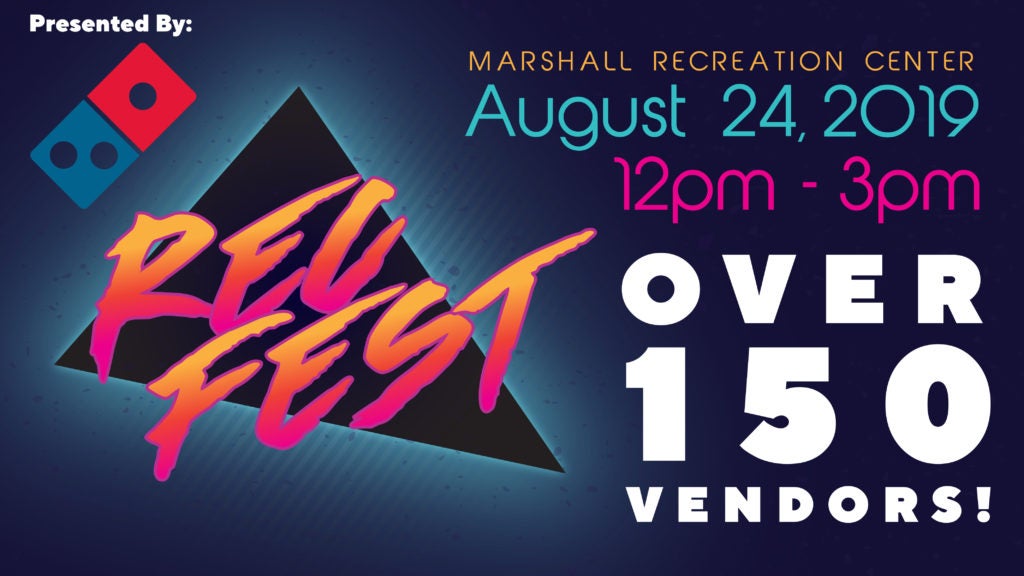 You are invited to join the Marshall Recreation Center for the premier event of the year. RecFest is an opportunity to showcase your business or organization to not only Marshall Students, but to the entire Marshall community. RecFest is the perfect place to connect and collaborate with Huntington and to expose your brand to thousands of incoming Marshall Students. We hope you can join us, as we anticipate this to be the largest and greatest RecFest yet. There are new and exciting plans already in place for this year's event. We look forward to having you as a vendor at the 2019 RecFest event; reserve your space today! Contact dodd18@marshall.edu for registration questions! Download the vendor prospectus booklet for the full details and registration packet! To download just the application, click HERE.
New for 2019: Take on the 90's and decorate your booth to match the theme! Whether it be a blast from the past or funky clothes, we know you can rock it! There will be 2 prize categories with one winner in each (MU Department/Organization & Non-Affiliate Business/Organization). Judging will take place at 11:30am on the day of RecFest.
Facebook Event: Be sure to accept our Facebook invitation to RecFest and post about your promos and give-aways on the event page for this years event and help keep up the event hype!
Important Dates to remember: registration closes on August 21st, exhibitor set-up takes place on August 23rd from 5-7pm & August 24th from 9-11:30am. RecFest takes place from 12-3pm on Saturday, August 24th at the Rec!
Booth Space: As a vendor, you will receive a 6' x 2.5' table in an 8' x 10' space. In addition, the space will be accompanied by two chairs.
Facts about the Booths: 
• No helium balloons are permitted as a part of booth displays.
• No cars, trucks, boats or any other type of vehicle are permitted to be a part of booth displays.
• Any food items provided by RecFest vendors must be given away at no cost to participants.
• All items that make up booth displays are subject to approval from RecFest staff.
• Sales of any kind are not permitted at RecFest.
• Alcoholic Beverages are not allowed at any time during RecFest.
• Wireless internet will be available and the information placed on each table.
• Electricity is available for those who fill out the Electricity Use form due by August 9th.
Booth assignment will be available during set-up/move-in: Please return completed & signed applications to: Marshall Recreation Center, Attn. RecFest 402 Thundering Herd Drive, Huntington, WV 25755 Fax: 304.696.4109 Email: dodd18@marshall.edu
Thank you to our event sponsors:
Presenting Sponsor:
Domino's
Lead Sponsors:
Ritter Park Properties
West Virginia National Guard
Marshall School of Pharmacy
The Village on 6th Avenue
Event Sponsors:
Sheetz
Marshall Orthopaedics
Qdoba
Marco's