Nasim Nosoudi, Ph.D.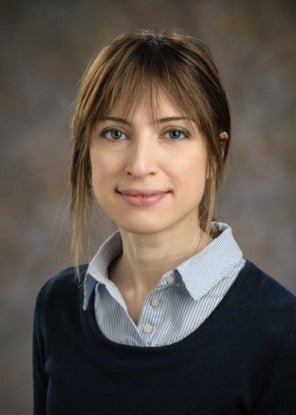 Assistant Professor
Department: Biomedical Engineering
Office: WAEC 3223
Phone: 304-696-2695
Email:nosoudi@marshall.edu
About Me
Dr. Nasim Nosoudi is an assistant professor in the Weisberg Division of Biomedical engineering at Marshall University. She holds a bachelor's degree in Material Engineering. She has completed her master's degree in Biomedcial engineering with focus on Bone tissue engineering. She received her PhD in Bio-Engineering with focus on Nanomedicine from Clemson university.
She is interested in developing nanomedicine for cardiovascular diseases and reprogramming cells using electrospinning. Her teaching experience includes Tissue engineering, Nanomedicine, Biomechanics, Biotransport, Advanced biofluid and Ethics in engineering.
Education
Doctor of Philosophy, Bioengineering, Clemson University, Clemson, USA, 2016.
Teaching Interest
Tissue Engineering & Regenerative Medicine, Biotransport, Nanomedicine, Human Biomechanics
Research Interest, Grant, Recent Publication and Patents
Theranostic nanomedicine, Biomaterial and electrospinning for cell reprogramming, wound healing and elastin regeneration, Health informatics
Current Grants
-FOA-AFRL-AFOSR-2018-0002: DURIP-2019, low vacuum field emission scanning electron microscope and a low-angle x-ray diffraction instrument, CO-PI.
Papers (Some most significant publications)
Nosoudi, Nasim, et al. "Electrospinning Live Cells Using Gelatin and Pullulan." Bioengineering 7.1 (2020): 21(IF=3.1).
Zadeh, Amir, Qamar Alsabi, Jaime E. Ramirez-Vick, and Nasim Nosoudi. "Characterizing Basal-like Triple Negative Breast Cancer using Gene Expression Analysis: A Data Mining Approach." Expert Systems with Applications (IF=4.2) (2020).
Saketh Karamched, Nasim Nosoudi, Hannah Moreland, Aniqa Chowdhury, Naren Vyavahare, Site-specific chelation therapy with EDTA loaded albumin nanoparticles reverses arterial calcification in a rat model of chronic kidney disease, Nature Scientific Reports, (IF=4.6), (2019).
Parasaram, V., Nosoudi, N., Chowdhury, A., & Vyavahare, N. Pentagalloyl glucose increases elastin deposition, decreases reactive oxygen species and matrix metalloproteinase activity in pulmonary fibroblasts under inflammatory conditions. Biochemical and Biophysical Research Communications, (IF=2.5), 2018.
5. Nasim Nosoudi, Aniqa Chowdhury Steven Siclari, Saketh Karamched, Vaideesh Parasaram, Joe Parrish, Patrick Gerard, Narendra Vyavahare, Reversal of elastin calcification and aneurysm in a rat model using dual targeted therapy with EDTA- and PGG-loaded nanoparticles, Theranostics (IF=8.7), 2016.
6. Vaideesh Parasaram, Nasim Nosoudi, Renee J. LeClair, Andrew Binks, Naren Vyavahare, Targeted drug delivery to emphysematous lungs: Inhibition of MMPs by doxycycline loaded nanoparticles, Pulmonary Pharmacology & Therapeutics, (IF=2.5), 2016.
7. Nasim Nosoudi, N, Aniqa Chowdhury, Steven Siclari, Vaideesh Parasaram, Saketh Karamched & Narendra Vyavahare, Systemic Delivery of Nanoparticles Loaded with Pentagalloyl Glucose Protects Elastic Lamina and Prevents Abdominal Aortic Aneurysm in Rats, Journal of Cardiovascular Translational Research, (IF=2.3), 2016.
8. Nasim Nosoudi, Pranjal Nahar-Gohad, Aditi Sinha, Aniqa Chowdhury, Patrick Gerard, Christopher Carsten, & Narendra Vyavahare, Prevention of Abdominal Aortic Aneurysm Progression by Targeted Inhibition of Matrix Metalloproteinase Activity with Batimastat-Loaded Nanoparticles, Circulation research (IF=14.5), 2015.
9. Yang Lei, Nasim Nosoudi, & Narendra Vyavahare, Targeted chelation therapy with EDTA-loaded albumin nanoparticles regresses arterial calcification without causing systemic side effects, Journal of Controlled Release, (IF=7.7), 2014.
10. Aditi Sinha, Aleksey Shaporev, Nasim Nosoudi, Yang Lei, Alexey Vertegel, Susan Lessner & Narendra Vyavahare, Nanoparticle targeting to diseased vasculature for imaging and therapy, Nanomedicine: Nanotechnology, Biology, and Medicine, (IF=5.7), 2014.
Complete List of Published Work at National Library of Medicine:
https://www.ncbi.nlm.nih.gov/myncbi/12CP-2wlomqEdn/bibliography/public/
Patents
Electrospun cell scaffolds and related methods Provisional patent sponsored by Marshall University, US
Combination UV and polyphenol treatment for improving skin elasticity and reduce cellular ageing, Provisional patent sponsored by Clemson University, US
Anti-elastin antibodies and methods of use, Provisional patent sponsored by Clemson University, US
Services
Institutional Animal Care and Use Committee (IACUC) Member, Wright State University, 2016-2019
Adviser, BMES student chapter, Wright State University and Marshall university, 2016-2020
Adviser, Tau Beta Pi, Wright State University,2018- 2019
• Peer review for many journals including Acta Biomaterialia, Nanotechnology, Science and Applications,International Journal of Nanomedicine, Journal of Drug delivery science and technology, Materials.
Personal Home Page