Instructions
This online advising session will take approximately 30-45 minutes to complete. You must read the information and complete the quiz at the end. After successful completion of the quiz, you will be prompted to enter your personal information and list the classes that you want to register for in the upcoming semester.
You will then need to meet with an advisor in the Academic Advising Center, Corbly Hall 334, so that your advising hold can be removed. You will then be eligible to register for classes on your scheduled registration date.
Freshman/Sophomore Requirements
The freshman and sophomore requirements consist of Core I & Core II requirements, Core Business courses, Additional University requirements, and Additional College requirements.
When planning your classes for the semester, you should balance your schedule with both requirements. You should also save some free electives to take during your junior and senior years, while you are taking more difficult courses.
Core I (9 Hours)
3 hours: First Year Seminar (FYS 100)
6 hours of Critical Thinking courses (refer to list of options)
To find the list of approved options for Critical Thinking and Core II courses, please visit: http://www.marshall.edu/gened/.
Core II (25 Hours)
6 hours: Composition (ENG 101/201)
3 hours: Communication (CMM 207)
3 hours: Math (MTH 130 or 127)
4 hours: Physical or Natural Science (refer to list of options)
3 hours: Social Science (PSY 201)
3 hours: Humanities (refer to list of options)
3 hours: Fine Arts (refer to list of options)
To find the list of approved options for Critical Thinking and Core II courses, please visit: https://mubert.marshall.edu/coreIIcourses.php.
Additional University Requirements
6 hours of Writing Intensive credit (COB students are required to take ENG 204 and MGT 460, which are both Writing Intensive)
3 hours of Multicultural or International (COB students are required to take an International Business Elective)
Capstone project in the major (all majors in the COB have a capstone course)
Additional College Requirements
ENG 204 (Writing Intensive)
Communication Studies Elective – select one of the following: CMM 302, 308, 315, 319, 322
International Business Elective – select one of the following:

ECN 340, 408, 420, 460
FIN 440
MGT 445
MKT 371
What Should I Register For?
Look at the requirements listed during the freshman year. Are there any courses you have not yet taken? If so, concentrate on completing those courses first. Then, you can look at the classes in the first semester of your sophomore year.
The best way to complete requirements, is to follow the example outlined on your curriculum sheet. This example takes into consideration the courses that have prerequisites.
To help with your program progress, Marshall University uses a tool called Degree Works. It's a new degree-auditing and tracking tool that assists students in registering for their courses and keeping track of your progress.
DegreeWorks
TRACK YOUR PATH TO SUCCESS WITH DEGREEWORKS
DegreeWorks is a degree-auditing and tracking tool. DegreeWorks tracks your academic achievement and compares where you are at with the requirements for your selected major as determined by the Marshall University Course Catalog. Using DegreeWorks, you can check your academic progress toward a degree, review the requirements already completed, and use the information provided to plan courses you should take to complete your degree requirements.
DegreeWorks helps provide you and your academic advisor with information that helps you focus on your academic goals and how to achieve them.
DegreeWorks provides an electronic audit of your progress toward a specific degree. The audit reports on:
Courses and credit hours earned as applied toward your degree program
Catalog requirements in effect when you choose a major
All requirements necessary to receive a specific degree
Transfer credits used to satisfy degree requirements
Courses for which you are currently registered
Courses that do not apply to specific degree requirements, but do apply toward overall earned hours and cumulative GPA
To log-in to DegreeWorks and begin using its reporting and auditing capabilities, log in to myMU, and click on the DegreeWorks link on the Student Information tab.
If you think there is an error with any of your course requirements in DegreeWorks, please notify your academic adivsor.
To find out more please go to this page, http://www.marshall.edu/degreeworks/.
Junior/Senior Requirements
During your junior and senior year, you will need to pay close attention to prerequisites and courses that are only offered once a year. You should carefully plan in which semesters you will take your remaining requirements.
Once you have completed approximately 65 credit hours toward your degree, your academic advisor will process a Junior Evaluation outlining the remaining courses for completion of your degree. You will meet with your advisor to discuss your remaining requirements.
Courses Offered Once a Year
The following courses are required for Economics, Health Care Management, and MIS majors and are usually only offered once a year. Please note the semesters in which these courses are taught and plan accordingly. Failure to adhere to this list may result in your graduation being delayed. The COB reserves the right to change the semesters in which these courses are offered.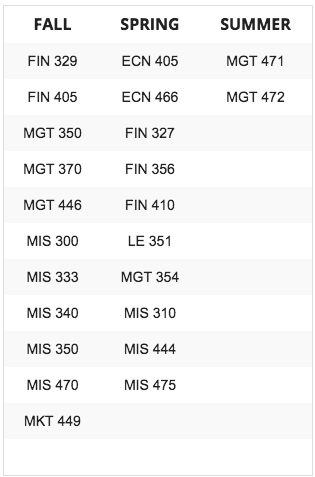 University Graduation Requirements
Have a minimum of 120 credit hours
Have an Overall GPA of 2.0 or higher
Have a Marshall GPA of 2.0 or higher
Have a Major GPA of 2.0 or higher
Have earned a grade of "C" or better in ENG 201 or 201H
Have met all major(s) and college requirements
Have met the requirements of the Core Curriculum
Have met his/her college's requirements for upper division credit
Have met the residence requirements of Marshall University, including 12 hours of 300/400 level coursework in the student's college
Be enrolled at Marshall at least one semester of the senior year
Have transferred no more than 72 credit hours from an accredited West Virginia two-year institution of higher education
COB Graduation Requirements
Completion of all curricular requirements for the major
Completion of the following residency requirements:

Earn at least 36 semester hours at Marshall
Earn at least 12 hours of senior level coursework in the COB at Marshall
Earn at least 15 hours in the major field at Marshall
Earn at Marshall 16 or more of the last 32 hours credited toward the degree
Earn at least 50% of the business courses required for the degree (excluding 9 hours of economics and 6 hours of statistics) at Marshall

Earn at least a 2.0 GPA in each of the following three categories:

All coursework attempted at Marshall and elsewhere
All coursework attempted at Marshall
All coursework attempted and included in the major(s)

Successful validation of transfer work as required
Removal of all incompletes
At most, 18 credit hours of coursework (consisting only of general education requirements and/or free electives) taken under the Credit/No Credit option may be applied toward graduation requirements. College of Business courses and other courses in your major may not be taken on a Credit/No Credit basis.
Understanding Your GPA
Your Grade Point Average (GPA) is a numeric representation of your letter grades. Students who Overall and/or Marshall GPA is below a 2.0 is placed on academic probation.
TYPES OF GPA'S:
TERM GPA = GPA for one term (semester)
OVERALL GPA = GPA for all terms for all college coursework (Marshall and other institutions)
MARSHALL GPA = GPA for all terms for all Marshall coursework
MAJOR GPA = GPA for all courses required in the Junior and Senior year for your major(s)
In order to graduate, you must have a minimum 2.0 GPA in your Overall, Marshall, and Major GPA's.
Calculating Your GPA
This example is a GPA calculation for one term. First, add up the total credit hours attempted and total grade points earned:
A = 4 quality points     B = 3 quality points   C = 2 quality points     D = 1 quality point     F = 0 quality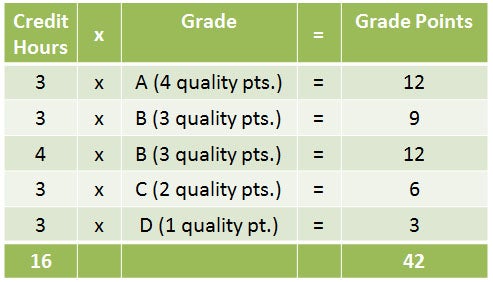 Divide the grade points by the credit hours attempted to arrive at the GPA.

DegreeWorks will also calculate your overall GPA, semester GPA, and has an "Advice Calculator".
Academic Probation
All undergraduate students whose Overall and/or Marshall GPA drops below a 2.0 will be placed on Academic Probation. Academic Probation is a period of restricted enrollment. All probation students are subject to the following restrictions:
Must meet with the Director of Student Services prior to registering for classes
Cannot take more than 15 credit hours
Cannot register on MyMU
Must develop an Academic Improvement Plan
Must participate in the college retention program
Must earn a minimum 2.0 GPA during the semester you are on academic probation or you will be subject to academic suspension.
Academic Suspension
Academic Suspension is a period in which a student cannot enroll in courses at Marshall University. A student who has pre-registered and is subsequently suspended will have his/her registration automatically cancelled.
Students who earn less than a 2.0 semester GPA while on Academic Probation, or who accumulate or exceed the Quality Point Deficit for their GPA hours (see table below) will be suspended for one regular semester (the summer terms do not count as a term of suspension). A second suspension is for a period of one year. Third and subsequent suspensions will be for a period of two calendar years each.

Schedule Adjustment Period
Students may add or drop courses over the web or at the Registrar's Office through the first week of a regular semester without receiving a "W" on their record. During the summer semesters, students may add or drop courses through the first day of the term.
After the schedule adjustment period ends, students cannot drop courses through the web, but must go to the Registrar's Office with a drop slip.
"W" Period
There is a period of time during a semester in which students are allowed to withdraw from a course or courses and receive a "W" on their transcript. The "W" period begins immediately after schedule adjustment ends and the deadline is through the 10th Friday of the fall and spring semester and through the third Friday of summer terms. Refer to the Academic Calendar for specific dates.
Students who wish to drop a class during the "W" period must obtain the signature of their instructor on a drop slip and take it to the Registrar's Office for processing. Students who are on academic probation must also obtain the signature of the Director of Student Services.
If you withdraw from a class during the "W" period, it will not have an impact on your GPA. However, if it causes you to drop from a full-time student to a part-time student, it could have a negative impact if you are receiving financial aid, or on your parents' auto or health insurance. Also, if you have attempted or dropped the same course more than once, it could have a negative impact on your Financial Aid. You should consult with these entities before dropping below full-time status.
D/F Repeats
If you earn a grade of "D" or "F" during your first 60 attempted hours, you can repeat the course to have the original grade removed from your GPA calculation.
You only have one chance to remove a grade of "D" or "F". The second grade earned is the grade that remains in your GPA. If the second grade is an "F" and the course is a graduation requirement, you will have to take the course again and successfully complete it by earning a grade of "D" or better (unless is it a course that requires a "C" or better).
If you register for a course as a D/F Repeat, but withdraw from the course, the "W" does not count as your second attempt. Only a letter grade counts as your second attempt for a D/F Repeat.
If you want to take a class as a D/F Repeat, you must fill out a D/F Repeat Application in the COB Academic Advising Center prior to the beginning of the semester.
Prerequisites
A prerequisite is a course that must be completed before advancing into the next course. For example: ACC 215 must be successfully completed with a grade of "D" or better before taking ACC 216. You must earn a grade of "C" or better in ENG 101 before taking ENG 201.
Accounting majors must earn grades of "C" or better in prerequisite major courses before advancing into the next course.
The COB strictly adheres to prerequisites. It is the student's responsibility to be aware of and meet all prerequisites for COB courses. By remaining in the course beyond the regular registration period, the student certifies that he/she has met all prerequisites. Students registered for courses without having met all prerequisites will be considered to have committed Academic Dishonesty. The COB reserves the right to administratively withdraw students from courses if the prerequisite(s) have not been met.
High Demand Courses
Students who withdraw during the "W" period from a course identified as a "high demand" course, shall NOT be permitted to advance register for the course the following semester. If seats are still available during regular registration (the week before the semester begins), you will be allowed to register at that time. High demand courses are as follows:
ACC 215
BSC 227
ENG 101
ENG 201
MTH 121
MTH 127
MTH 130
SPN 101
SPN 102
Credit/No Credit
Students may elect to take up to 18 hours of general education courses for a CR (credit) grade in place of grades A through C, or NC (no credit) in place of grades D or F. The grade of CR or NC does not affect the GPA.
Students may choose the CR/NC option through the schedule adjustment period. After the schedule adjustment period, no change to or from the CR/NC option can be made.
COB students are not allowed to take business courses or ENG 201/201H as CR/NC. Letter grades must be obtained in these courses.
Internships
Students are not required to do an internship, but it is strongly encouraged. Not only will it meet one of your requirements, but it will give you an opportunity to get great experience. If you are interested in doing an internship you must meet the following guidelines:
Must be a junior or senior
Must have an overall GPA of 2.5 or higher
If you are approved for an internship, it depends on your major as to how the credit will apply. Some majors award credit for a major elective, and some majors award credit for a free elective. Please check with your advisor for information as to how an internship will apply for you.
Transient Student
Students have the option of taking classes at another institution and transferring them back to Marshall. This is especially beneficial to students during the summer terms when you might want to go back home and want to take classes at a local college/university.
If you want to take classes at another school, you must fill out a transient student form (Approval for Courses to be Taken for Advanced Standing). This form must be approved before you begin the course at the other school. This form is your protection from taking unnecessary courses and from being considered a transfer student when you return to Marshall.
Double Majors
Students can do a double major with two majors in business, or a major in business and a major that is in another college.
If you are interested in pursuing a double major in business, please consult with your academic advisor.
If you are interested in pursuing a double major between two different colleges, you must consult with both colleges for advising.
Minors
Students can minor in an area in business, or an area in another college. Most minors require specific courses, so be sure to check your catalog for minor requirements.
Students in the COB are encouraged to complete a minor, but it is not a graduation requirement.
3+2 Program
The 3+2 Program allows students to complete their bachelor's and master's degrees in less time by double counting up to nine hours of courses for the MBA, HRM, and HCA programs and six hours of courses for the MS in Accountancy.
During the senior year, students who are admitted to the 3+2 Program can take nine hours of graduate classes to double count toward their bachelor's and master's degrees.
To be eligible, students must have an overall GPA of 3.0 or better. Students must have also completed all undergraduate foundations requirements with a "B" for the MBA, HRM, and HCA programs or a "C" or better for Accounting.
Study Abroad
There are many opportunities to study abroad at schools all over the world. If you are interested, you should visit the International Student Office to check out your options.
The COB also has several exchange programs with other schools, including England, France, New Zealand, and ISEP Exchange.
E-Mail
The COB will frequently send email to your Marshall email account. The University does not allow us to send messages to personal email accounts. If you do not check your Marshall email account on a regular basis, you need to forward your mail to a personal account that you check regularly. Even then, you will still need to check your Marshall account on a regular basis and clean out your mailbox so that your inbox does not get full and reject messages. In order to forward your Marshall email to a personal account, please visit: http://www.marshall.edu/it/email-rules-365/.
Overloads
If a class is closed (full to capacity) you can request an overload into the course. If it is an COB course (ACC, BUSN, ECN, FIN, COB, LE, MGT, MIS, MKT) you must go to the COB website and submit your request.
You will be notified through your Marshall email account as to whether or not you can be overloaded into the class.
All students who are registering for their final semester must request an overload for MGT 460. It is highly suggested that you submit your overload request as soon as advance registration begins.
Advising Tips
Each student is given an Advising Guide based on their catalog year. You are locked into the requirements listed in your catalog, unless you transfer to a different major on campus. You can use your Advising Guide to keep track of the courses you have completed, and you will know what you still have left to take. Be sure to take your Advising Guide to all appointments with your academic advisor.
It is an excellent idea to keep a "Marshall" folder with all of your registration receipts, drop slips, payment receipts, advising information, etc.
Quiz
The following quiz consists of a total of 17 multiple choice questions. Each successive question will appear once you answered the current question successfully. You must answer each question in order to complete the online advising session. At the completion of the quiz, you will submit an information page so that your advisor is informed that you completed this online training.
Once you have completed the training, you will meet with an advisor so they can check the classes you are going to register for and then remove your advising hold.