The Marshall Business 20/20 Strategic Plan
In September 2014, faculty and staff approved the Marshall Business 20/20 Strategic Plan. The Marshall Business 20/20 Strategic Plan centers on the College's vision and mission: Help students succeed. It is structured around the three main goal areas: People, Programs, and Finances. Under these three areas, there are nine sub-goal areas including creating and disseminating impactful intellectual contributions, improving student services and experiences, improving curricula and programs, increasing revenues and cutting costs and deploying sufficient faculty and staff. The Plan is also congruent with the mission, market, and margin framework adopted by the University for its Marshall 20/20 Strategic Plan, and the four main themes of the 2013 AACSB standards.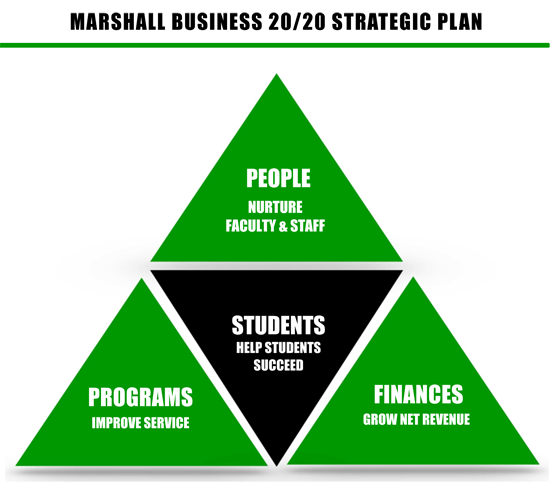 Marshall Business 20/20 Strategic Plan
People
Faculty and professional staff are critical for achieving the mission through intra- and inter-college communication and collaboration. The following goals focus on deploying sufficient faculty and professional staff to achieve the mission.
GOAL A.1. DEPLOY SUFFICIENT AND EFFECTIVE FACULTY
GOAL A.2. DEPLOY SUFFICIENT AND EFFECTIVE PROFESSIONAL STAFF
Programs
The College's undergraduate and graduate academic programs focus on imparting knowledge, and inspiring learning and creativity. They also ensure development of the business skills and acumen necessary for our students to succeed in a competitive, dynamic, and global environment. The College will continue to improve these initiatives by taking advantage of external opportunities and leveraging strengths.
GOAL B.1. IMPROVE CURRICULA, PROGRAMS, AND STUDENT LEARNING
GOAL B.2. DEVELOP AND IMPROVE STUDENT CENTRIC SERVICES
GOAL B.3. ENHANCE MARSHALL BUSINESS BRAND
GOAL B.4. CREATE AND DISSEMINATE IMPACTFUL INTELLECTUAL CONTRIBUTIONS
Finances
Financial strategies are important for achieving the mission and reaching other goals/objectives. The College's financial strategies include fundraising, other revenue growing activities, and improving operational efficiency.
GOAL C.1. INCREASE FUNDRAISING
GOAL C.2. INCREASE OTHER REVENUE GENERATING ACTIVITIES
GOAL C.3. IMPROVE OPERATIONAL EFFICIENCY