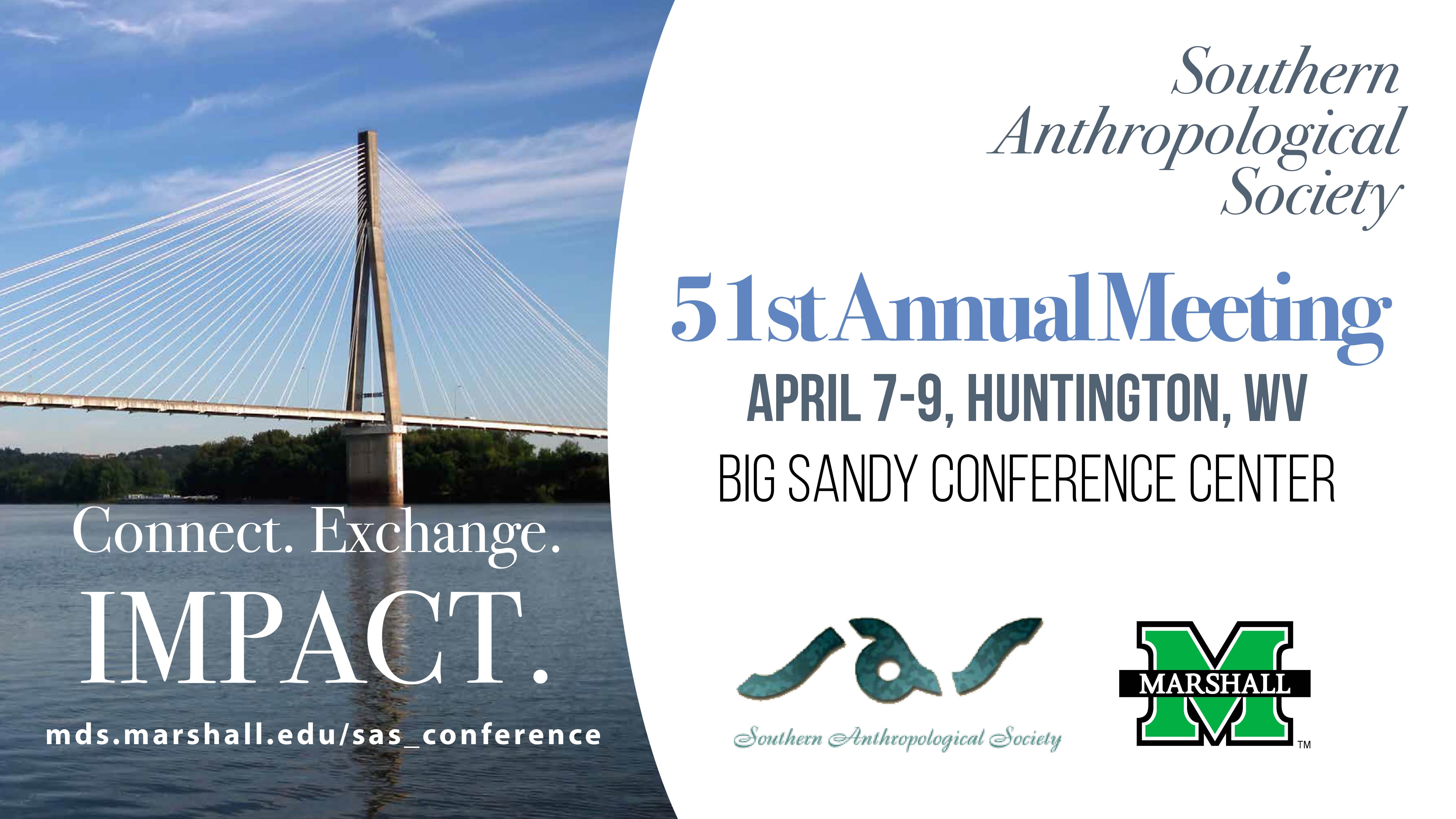 Get ready for the 51st Annual Meeting of the Southern Anthropological Society being held in beautiful Huntington, West Virginia, Thursday, April 7, to Saturday, April 9. Dr. Brian Hoey, Conference and Program Chair, welcomes everyone to share in the bounty of opportunities that promise to reinvigorate us through "Reinventing and Reinvesting in the Local for our Common Good," which is the conference theme for this year's meeting.
Connect.  Exchange.  Impact.  That is the conference tagline. Hoey envisions a dynamic meeting space that will connect both academics and non-academics in an exchange of experiences, ideas, and plans that can lead us to have positive impact together in our communities for the common good.  What will YOU do for our common good?
Here are just some of the highlights that you can look forward to at this landmark event:
A keynote address from Dr. Melinda Wagner, Professor Emeritus of Radford University, on "Celebrating the Local" in and through our work as anthropologists in which we will be asked to consider what makes us relevant at a time when so many of our programs are threatened. This is part of the Keynote Banquet, which is a ticketed event (see below).
Fantastic research presented on such diverse topics as: creating diverse, integrative communities; youth leadership; addiction; social enterprise and the local food economy; historic preservation; and more!
Workshops and panels on topics such as service learning and other pedagogical topics to reinvigorate your work in and out of the classroom as well as local food hubs, historical preservation in a local, state, and federal regulatory environment, "smart growth" through application of social science-based evidence, and emerging water crises.
Artwork prepared by Marshall University College of Arts and Media capstone students that speak to the conference theme.
Tours and field trips highlighting local examples of reinvention and reinvestment in the local including:
o   The Marshall University Visual Arts Center
o   The Keith Albee Theatre—a 1928 Thomas Lamb masterpiece of the vaudeville era and one of the few remaining
o   The Heritage Farm and Museum (a Smithsonian Affiliate)
A downtown-wide, evening welcome by the community of Huntington to all SAS attendees in the form of a "Shop, Sip, and Stroll" celebration of our own local revitalization.
Live music and creative performances that express our conference theme.
Marshall students who are absolutely pumped to be your hosts!
The SAS is a 501c3 non-profit organization.  We depend on membership and registration fees to cover our costs for putting on the conference as well as providing opportunities for our student members, including scholarships.  Our full conference, professional rate is $150 for the entire conference (Thursday evening through Saturday evening).  We have a student or retired rate of $70 for the entire conference. This latter category can also be used by local attendees who do not see themselves as professionals, academics, students, or retirees but would like to attend the full conference.  If you opt for to pay for the full conference at this "local rate" select "Student/retired Membership/Registration" at the link below and, when you get to Checkout on the next page, click "Add special instructions to the seller" and enter "Local Full Conference Rate" in the comment box.  You will pay $70 for the full conference.
This year, we are opening up the conference to community members who may want to attend for only one day.  You may register at the "Local Day Rate" of $35.  We encourage people to register online as this will facilitate record keeping and credit card payment processing and you'll be provided a receipt for your payment at the time of payment.  If you opt for the Day Rate, select "Student/retired MEMBERSHIP ONLY" and, when you get to Checkout on the next page, click "Add special instructions to the seller" and enter "Local Day Rate" in the comment box.  Please register here: http://southernanthro.org/membership/.
The Keynote Banquet (following an open reception for all attendees) is ticketed event.  You'll be able to pay for the banquet ($30 regular and $20 student) during registration.