Julius Espiritu, a graduate of Marshall University in the Fall of 2016, is a shining example of how to set career goals and achieve them. Julius has always had a passion for rail and is currently a licensed conductor for the Cass Scenic Railroad; he is also skilled as a brakeman and shop laborer. Julius enjoys traveling the country, whether by rail or car, and is infamous for taking on local eating challenges. The College Program is exceptionally proud to call him an alumni and friend. Check out this video to see Julius in action and get a glimpse inside the Cass Scenic Railway.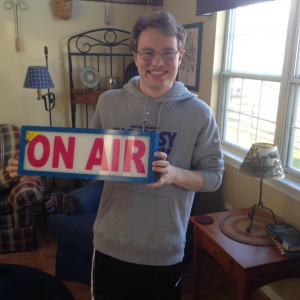 Alec Hildebeidel
I first visited Marshall a little over six years ago when I initially heard about the College Program, and was offered a chance to participate in the summer session going into my senior year of high school.
I took one class there and enjoyed my time with the university and center so much that I decided to apply to both the University and the College Program after high school to further my education. In the end, I was accepted into both.
I worked hard all four years of my time at Marshall, with the support of the College Program, eventually earning a Bachelor's degree in Sports Broadcast, as well as a Double-Minor in European History and Film Studies.
I am now just over a year out of college and I currently work part time as a news/sports/talk producer at WBAL News Radio 1090 in Baltimore, MD. I was hired there in late February 2017, and my first few months there have been an absolute dream.
I cannot thank the College Program enough for the support they have provided for me both during my four years at Marshall, and during my short stay over the summer of 2011. I wish them all the best, as well as good luck to the future students that attend.
Again, thank you.
Jon Hanson
Hello! I'm Jon, a student of the program who will be graduating in December 2017. I am currently a full-time Summer Associate at Northwest Bank. I'm primarily a front-line teller for this position, and am also getting valuable knowledge and experience in other areas of the bank. I work face-to-face with our valued customers as a daily responsibility, and this has given me more valuable practice in interacting with others on a professional basis.
I feel that the College Program has been instrumental in developing the self-confidence and independence necessary to excel in my current job. Through working on my personal organization and goal-setting-abilities, I was able to find and interview for this position independently. Through working with my personal therapist, I have been able to put my future in perspective and organize more of a vision for myself to transition into professional employment. My assistants have likewise been abundantly helpful in helping to organize my correspondence with the Career Services counselor and in keeping my application schedules organized.
Prior to landing my current job, I had busily applied for about forty internships as I really wanted some professional experience before graduation. Most of these rejected me, as even though my GPA is excellent and I have thirteen years of work experience these internships are extremely competitive. I had two interviews (one with a bank, and another for an insurance company), of which I was in the final pool for the bank internship in Huntington. Unfortunately, I was turned down and so I needed to lower my standards somewhat for summer employment.
This is where my local opportunities came in! I applied by chance for the summer associate position at Northwest, a branch of which had just opened down the street from my house. In addition to this position, I applied to a call center position at a company owned by family friends. The latter position had a higher pay level, but hours were not guaranteed and I felt like the professional experience working as a bank teller outweighed the extra income I would get at the other position. In addition, the call center never returned my call after the interview which I thought was unprofessional.
Although I was taking a big pay cut from my last year's job at the cookware factory, my interviewer Tyler was very professional but also personable and made me feel at ease. I had been really unhappy at the working conditions at the factory the last two years, so returning there was not an option. Plus, I felt that I was personally ready to launch my career in a more service-oriented environment with the opportunity to make valuable business contacts. Tyler offered me the position immediately (a first for him), owing to my qualifications for the position. After some deliberation with my parents, I chose to accept and started on May 22. I did not disclose my diagnosis at all, except confidentially to the HR rep for liability reasons. Overall I'd prefer to keep it that way if possible, and be viewed on my own performance at this job.
The training process was pretty intensive for a student position, and took around three weeks all told. There is a lot to be cognizant of when being a bank teller, and strict regulations that need to be followed so I trained extensively over these weeks. I was deployed to many branch locations to become proficient in various functions such as the drive through and automatic cash machines, as well as to polish my skills as a teller to process transactions efficiently. My trainers were kind for the most part and it went smoothly.
This position has been a great one so far for my current status as a student seeking full-time summer employment. I am overall happy working as a teller, as it is mentally stimulating in a way that my past jobs have not been. I am hoping for a letter of recommendation from my supervisors and a positive reference that I could leverage for future employment elsewhere. I will probably end up working on Thanksgiving break and maybe a few weeks right after graduation, but I don't see myself staying on at this position for the long term. I am an ambitious individual who has worked very hard at college, and I would like to advance my career to the fullest. If potential other positions at Northwest Bank or other banks open up that are more in line with my qualifications, then I would definitely consider them.
My advice to students like myself who are graduating and seeking employment is, don't settle! Before coming to the program, I worked for years in dead-end jobs that weren't rewarding and did not give me the chance at independence I wanted. Don't settle in a bad job just because it pays the bills and keeps your parents happy. Remember that time goes one whether you like it or not, and it's up to you to gain self-sufficiency. This means pressing your counselors, parents, and advisors about career plans, and also taking your own initiative no matter how much time out of your day work takes up. I'm happy for this position, for my future and hope to move on to greater things. Thanks for reading!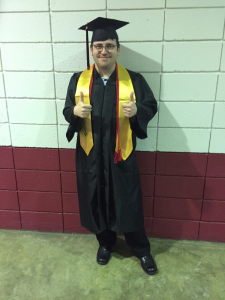 Joey Wear
Last summer, I attended a summer employment workshop as part of Marshall University's Autism Program. This workshop incorporated both lecture- and activity-based activities on the steps that are necessary in applying for a job. This included learning how to prepare resumes and cover letters, creating a profile on LinkedIn and an account on JobTrax and participating in a speed-networking session, mock interviews and discussions with a 5-member panel of local employers. In addition, participants also learn information related to self-advocacy, workplace disclosure, accommodation requests, sensory scans in real job environments and employee evaluations. It lasted only a couple of days and it happened to occur while I was taking a summer class. However, this workshop was very beneficial.
Because this workshop was run by the Marshall University College Program for Students with Autism Spectrum Disorder, it is specifically designed to help students who have autism and it shows. The workshop was perfectly defined in a well-organized schedule. Each activity is also organized to be as beneficial as possible to students with ASD. In the case of the mock interviews, I was given a job with all the information about said job beforehand. This allowed me to prepare almost a day prior to the interview itself.
In addition, I now feel more capable of advocating for myself than ever before in my life. I am certain that this workshop is one of the primary reasons behind this. Prior to this workshop, I was vaguely aware of how to compose a resume and cover letter but never got around to doing it. Thanks to the College Program, I not only have a cover letter but also a resume that I am still adding revisions to. However, the most important thing I took away from this workshop was feedback. I had no idea if I was doing ok or not in this workshop so I was very pleased when I got feedback from the staff at the College Program. Overall, this workshop should be made regular. It is very well-organized, has brilliant lessons that students can take away into the workforce and run by a staff that is unmatched in terms of assisting young men and women with autism spectrum disorder. This year, this young man will take the knowledge he has learned from this employment workshop and the College Program in general into the real world for the first time.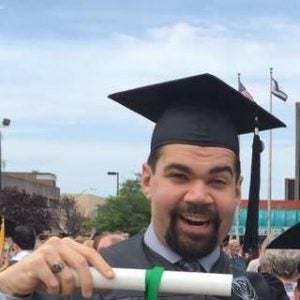 Charlie DeLeo
The College Program and earning my degree taught me how to be independent and self sufficient. I also learned how to interact with others in authority and to meet deadlines for projects and assignments.
The interview was set up by a job coach, and they knew that I had Aspergers. I've done several interviews before, so I wasn't as intimidated as I was at first. Every place I've interviewed at, they have known before that I have a disability, so [disclosure is] not something that's really an issue for me as of yet. My first day was pretty simple and straightforward, one of my coworkers, Julie who works in Communications trained me on what to do. She continues to be close by in case I need help or ask questions.
Prior to applying to this job, I applied to 10 positions and had two interviews. I also attended a job fair and I worked with a headhunter who specializes in people with disabilities. I got this job through the DARS.
I feel very happy in my current position, but I'm going to look for something in my field. There's not a lot of room for advancement where I work, and the pay, while nice, is not enough to live on independently.
My advice to graduating students, is to work with Career services and get into the Workforce Recruitment Program. I have worked since I was in high school during the summers. I've picked up trash as a facilities assistant, I had a fellowship at RespectAbilityUSA, and then I worked at the Department of Defense after graduating. All these experiences give me to something to talk about during interviews, and helped me build my office work skills. People take these skills for granted, but these are really essential skills for the workplace.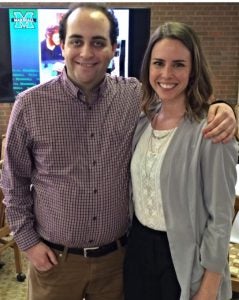 An interview between Student Support Specialist Hillary Adams and Marshall University graduate Sammy Fischbeck:
•How did The College Program and earning your degree play a role in preparing you for employment?
The college program played a major role in the internships I had. The staff of the CPSASD instilled in me the importance of following up on questions and concerns, as well as the benefits of working with pleasant people/coworkers.
•What skills did you learn from working with College Program staff and/or Marshall University staff to better prepare you for your role?
As I said before, the staff of the CPSASD instilled in me the importance of a positive attitude in the workplace. Other employees are much nicer to a coworker who is easy to get along with. The CPSASD helped me follow up on any questions I had for professors about assignments. Similarly, I've learned that anytime you are uncertain about the nature of a work assignment you've been given, make sure you follow up with your supervisor or whoever gave you the assignment to make sure you understand what you need to do.
•Can you tell us a little about the application process, the interview, your first day, or training period?
Maintain a pleasant attitude throughout the interview process, but don't look like you are putting on a facade. During your training period, it may feel like the instructor is telling you how to perform obvious duties and tasks. Don't take it personally, it is part of the training process. Just maintain a positive attitude, listen to what they are saying, and don't get defensive.
•Approximately how many jobs did you apply for before attaining your job?
I applied for over 50 positions before attaining my current position. I would advise anybody looking for work to apply for at least two or three positions per day. They should be positions the person can see themselves filling for the foreseeable future.
•Any advice for other students who are graduating and/or seeking employment?
Listening to and understanding feedback is essential to self-improvement, whether in accomplishing tasks or interacting with others.