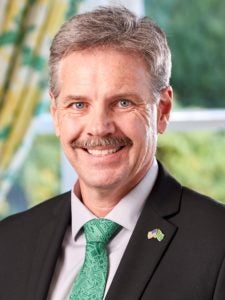 Dear Marshall students, faculty and staff,
As we continue to navigate the uncertainty presented by the COVID-19 pandemic, I want to thank members of our university community for your patience and cooperation. I am inspired and motivated by the response the Marshall family has had to every challenge that has been placed before it over the last several weeks.
This message is to update you about the plans for our Summer 2020 sessions. Several weeks ago, we announced that both of the first two sessions—Intersession and Session I—would be offered via distance delivery only. Because we still don't know how long there will be a need for physical distancing, we have now decided to move all summer courses to a distance format and provide students with emergency assistance funds* to offset the e-delivery fee of $40 per credit hour, or $120 for a three-hour course.
The only courses that will be offered during summer school are those that can be delivered all-online, as well as those that include some synchronous activities delivered electronically with no personal contact (i.e., hybrid courses).
With the financial assistance funds from the university and no Rec Center fees since the facility is closed, this summer is a great opportunity for students to take required classes at a reduced price. For example, the base tuition and fees for in-state undergraduate students for Summer 2020 will be reduced to $333.50 per credit hour from $373.50. The base tuition and fees for in-state graduate students will be $462.25 per credit hour, down from $502.25.
These changes affect courses in all four summer sessions—Intersession (May 11-June 5), Session I (May 18-Aug. 7), Session II (June 8-July 10) and Session III (July 14-Aug. 14).
The Division of Academic Affairs is working with academic leadership to determine which summer courses originally planned for face-to-face instruction can be transitioned to a distance format. Summer courses originally scheduled for online delivery will be offered as planned.
The following is specific, related information for students and faculty members:
For Students
We are continuing to update the online summer class schedule to reflect changes to course offerings. The updated Summer 2020 schedule will be available in MyMU. We encourage you to check back frequently, as we expect additional changes over the coming weeks.
Students should contact their advisors for assistance and advice regarding summer school registration. Help is available on our Keep Learning page, which includes advisor contact information and other resources for the online learning environment.
For Faculty
Faculty who need assistance identifying the best methods to convert a face-to-face course to an online or hybrid format should contact the Online Learning and Instructional Design Center and the Center for Teaching and Learning. Our Keep Teaching page also has guidance especially for faculty members.
Please remember that your Marshall e-mail is the primary way for us to communicate with you, so please check it regularly.
Thank you again for your understanding during this challenging time.
Sincerely,
Jaime R. Taylor, Ph.D.
Provost/Senior Vice President for Academic Affairs
* When students register for summer session courses, Marshall University will automatically apply a $40 per credit hour emergency financial assistance grant to their accounts. The grants will cancel out all e-delivery fees.