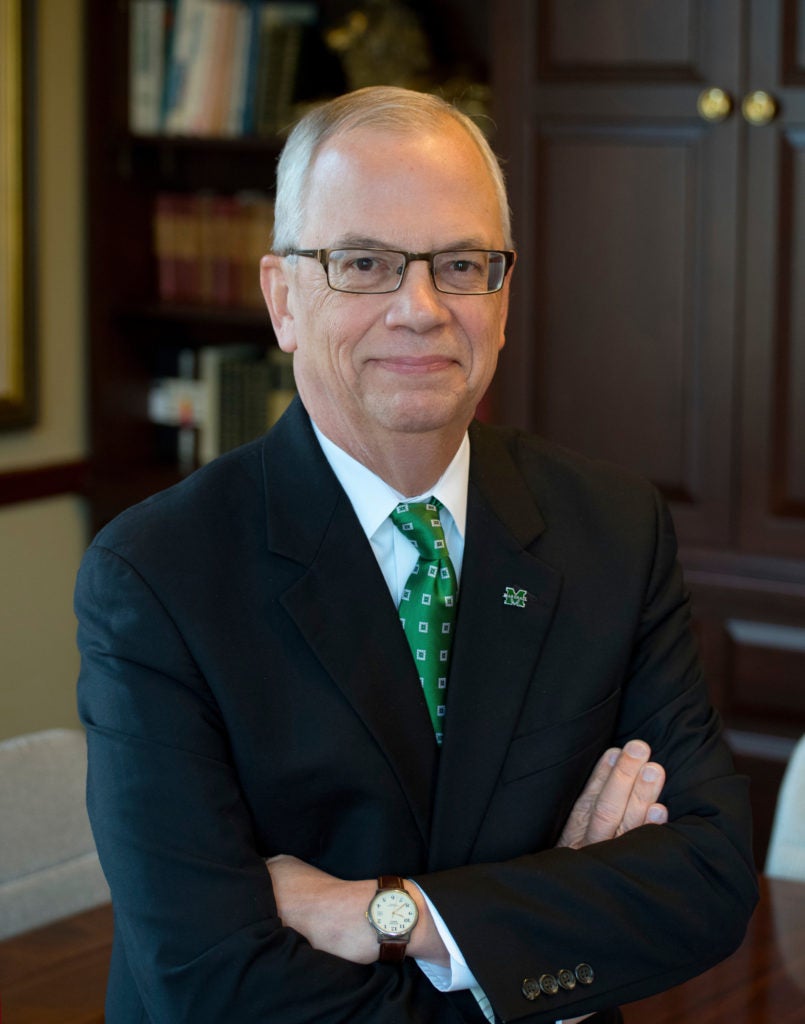 Dear Marshall University faculty and staff,
I want to share with you some of our plans for addressing the financial challenges facing us beginning July 1 due to the COVID-19 pandemic. The overriding goal of our recent efforts has been to avoid layoffs or employment terminations of permanent employees.
Following a month of hard work, the Budget Work Group presented me with a plan that included a number of measures to save Marshall close to $15 million, including salary reductions for employees making over a certain amount.
Upon review of their recommendations, I have put together a budget reduction proposal I will be presenting to our Board of Governors later this month. This proposal includes a scaled-back version of the salary reductions recommended by the Budget Work Group, along with about $12 million in other cost-saving measures.
If the board approves the proposal, beginning with the pay period that starts July 4, we will be implementing Part 1 of the temporary salary reductions, which is for employees making $100,000 or more annually. The reductions will be progressive, and employees who make more will have higher percentage reductions.
Here are some example data points on the Part 1 salary reduction scale: 6% reduction at $107,900; 7% reduction at $133,800; 8% reduction at $175,400; 9% reduction at $215,400; and 10% reduction at $262,400. The maximum reduction will be 15% at $470,000.
Affected employees can view tables of the specific adjusted salaries by logging into MyMU and clicking on the "My Pay" link.
After classes begin in August, we will examine our tuition revenue to determine whether or not additional salary reductions will be necessary. We hope further reductions will not be necessary, but if they are, we will implement Part 2 of the temporary salary reductions on Aug. 29 for employees whose annual salaries are in the range of $50,000 to $100,000.
Some example data points on the Part 2 salary reduction scale are: 1% reduction at $54,800; 2% reduction at $60,750; 3% reduction at $68,450; 4% reduction at $77,775; and 5% reduction at $90,000.
No employee with a salary below $50,000 will experience any salary reduction.
The Marshall University Research Corporation and the Marshall University Foundation will be following the same salary reduction levels and timelines for their employees, pending approval by their respective boards of directors.
In addition to these temporary salary reductions, we will be freezing vacant positions and State-funded travel; cutting back on campus events; reducing the number of graduate assistants and student workers; reducing operating, maintenance and utility budgets; and taking aggressive action in the academic programs to produce cost savings from course section management. In addition, we will save $1 million a year in reduced bond payments due to our strategic refinancing of university bonds, which took place in April.
Let me assure you it is our intent for the temporary salary reductions in Part 1 of the budget reduction plan (and in Part 2 if necessary) to last no longer than one year. It is possible salaries could be restored to their full levels at any time during the fiscal year, depending on university revenues. Vice President Mark Robinson and I will be closely monitoring our financial status to be prepared to take restorative action as soon as appropriate.
I appreciate the part that everyone has played in planning for and managing the impact of the pandemic on Marshall. These are extraordinarily difficult and trying times, and we must be braced for the likely financial shortfalls of the upcoming academic year.
Thank you for your service and commitment to Marshall University.
Sincerely,
Jerome A. Gilbert, Ph.D.
President