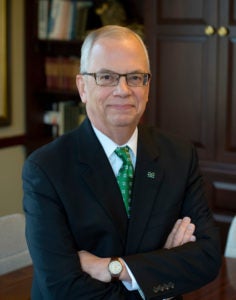 Updated to clarify Level 1/Part 2 salary reductions in seventh and eighth paragraphs.
Dear Marshall community,
The Board of Governors today approved the 2020 Return-to-Campus plan, a comprehensive guide that will steer our university into the fall academic term and beyond. Additionally, the board approved the FY21 budget, which you are aware has been reduced significantly due to the potential effects of COVID-19.
I will address both topics in this communication.
The Return-to-Campus plan, developed by a cross-section of individuals across campus and led by Tracy Smith, the director of environmental health and safety, and Dr. Larry Dial, chief medical officer for Marshall Health, addresses all aspects of returning to campus during the continuing pandemic. It will act as a detailed map for faculty, staff, students and visitors alike. As I have said multiple times over the past few months, our highest priority is the health and safety of everyone at Marshall. We will not deviate from this primary concern.
I encourage everyone to become familiar with this document. It includes a number of important items, including the mandatory use of face coverings, social distancing procedures, self-health assessments, frequent sanitizing of surfaces, active virus testing of specific groups and surveillance testing on a regular basis. We will offer virtual Town Hall meetings in the coming days and weeks for faculty, staff, students and parents to give these constituent groups the opportunity to ask questions about our plan. Details about these meetings and registration information is posted on the university's coronavirus website.
Today, the board also approved the university's FY21 budget. As I reported to you earlier this month, the overriding goal of our budget efforts amid the pandemic has been to avoid layoffs or employment terminations of permanent employees, while keeping the university on solid financial footing.
The approved budget plan has the potential to save the university close to $15 million through a series of cuts, including temporary salary reductions for employees making $100,000 or more annually, freezing vacant positions and State-funded travel; reducing campus events and the number of student employees and graduate assistants, and reducing maintenance and utility budgets, among others. Tables of the specific adjusted salaries are available by logging into MyMU and clicking on the My Pay link.
Potential temporary salary reductions for those making between $50,000 and $100,000 (Level 1/Part 2), also are a possibility and may be initiated as early as the fall semester, if necessitated by revenue shortfalls.
Additionally, and let me emphasize that only IF enrollment is down by close to or more than 15%  in the fall, will there be a second level of proposed cuts. These possible future budget cuts (Level 2) could include some or all of the following:  further campus-wide temporary salary reductions, reductions in administrative stipends, reduction of additional course sections, additional cuts to operating budgets and temporary work "furloughs" for employees. It is my intent to look at program cuts before people cuts. Again, selected Level 2 cuts will only occur if enrollment is down more than we are anticipating.
Finally, no employee with a salary below $50,000 will experience any salary reduction.
A complete summary of the proposed budget cuts, approved by the board today, is available on the coronavirus website, in the Recent Updates column.
I appreciate the part that everyone has played in planning for and managing the impact of the pandemic on Marshall. These are extraordinarily difficult and trying times.
I wish you the best of health and thank you for your service to Marshall University.
Sincerely,
Jerome A. Gilbert, Ph.D.
President