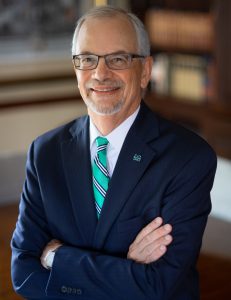 Dear Marshall University community,
As you likely know, West Virginia Governor Jim Justice on Friday signed an executive order allowing all West Virginia colleges and universities to reopen for the fall semester.
This is excellent news, as it allows us to continue plans to return to our "new normal" amid the ongoing COVID-19 pandemic. We appreciate Governor Justice's trust in our reopening plan, his commitment to everyone's health and safety, and his leadership in helping to make the arrangements to test our students.
As we announced back in April, we have been planning to return to full Face-to-Face instruction this fall. In light of the rising number of COVID-19 cases across our region and actions being taken by other universities around the country, we have decided to transition more fall courses to Virtual (live, remote) delivery than originally planned.
This transition will allow us to continue to monitor the status of the pandemic in our community, further reduce density inside our classroom facilities, and preserve, as much as possible, the important on-campus experience for our freshmen. It also will give us the best possible chance to move forward safely, while providing a quality educational experience and flexibility for all our students.
The Virtual mode of instruction we will provide, which is explained more below, is different than the strictly online options many universities are moving to, and we believe it gives our students a distinct advantage.
In short, classes this fall will be offered in the following formats or some combination thereof:
Face-to-Face, meaning a traditional classroom experience (although with reduced classroom occupancy and required face coverings);
Virtual, meaning class sessions held live via Blackboard and peripheral software, with instructors broadcasting lectures and leading classroom discussions at the specified class meeting day and time. (Sessions are recorded so students who do not have reliable access to broadband and/or other technical difficulties can watch the class at another time.); and
Online, meaning with no live/real-time class meetings. Course assignments, notes, group chats and discussions are posted on Blackboard and can be accessed at the student's convenience.
Freshmen, some Graduate and most Professional students can expect some combination of Face-to-Face and Virtual courses. It is especially important that freshmen are able to get as close a traditional introduction to college life as possible.
Sophomores, Juniors and Seniors can expect mostly Virtual courses; however, hands-on courses within a student's major, including labs, clinicals and studio classes may be offered face-to-face, as determined by each academic program. We are particularly focused on ensuring pre-requisite and upper-division courses are available so students can stay on the path to successfully completing their degree programs on time.
We are working this week to update course schedules to reflect any changes in delivery format. When these updates are complete, probably by Aug. 4, we will send another e-mail with a link for students to log in with their MUNET usernames to view the delivery format for each course on their fall schedules. If students have questions after checking any changes to their schedule's delivery formats, there will be specific contact information provided, based on the student's academic program.
We are scheduling additional Virtual Town Hall meetings to give students and parents an opportunity to learn more and to ask questions. We will communicate the dates and times next week.
In addition, specific information about various academic programs and delivery formats will be communicated directly from the academic colleges to their respective students.
Here are some other important notes regarding the fall semester:
Classes will begin on Aug. 24 as planned. (Some professional programs have alternative start dates.)
Residence hall move-in will occur as scheduled, with freshmen moving in Aug. 15-19 and upperclassmen returning Aug. 20-23. See our Fall 2020 Move-In FAQs. Next week, Housing and Residence Life will send an e-mail to students with a link to confirm their plans for the fall semester. After Aug. 4, upperclassmen who do not have any Face-to-Face classes on their schedules may opt to defer their housing and meal plans until the spring 2021 semester by contacting Housing and Residence Life. Fall charges will be removed from their accounts with no penalties.
University offices and facilities have reopened. Drinko Library, Memorial Student Center and Food Court, Starbucks, The Rec, Harless Dining Hall, Towers Marketplace, etc., will all be available this fall to serve students, with strictly enforced requirements for masks, physical distancing and cleaning/sanitizing.
We are dedicated to ensuring our students receive the same high-quality education from our regular instructors, whether a course is offered Face-to-Face, Virtual or Online. Tuition will remain as announced for the 2020-21 academic year.
In cases where a Face-to-Face course switches to a delivery format that would normally have the additional e-delivery fee, the university will automatically apply a $40 per credit hour emergency financial assistance grant to the students' accounts to cancel out all e-delivery fees.
Students whose courses are offered entirely in Virtual format and who do not want access to campus facilities and activities can choose to opt out of a prorated portion of standard fees. Students who opt out will receive a credit for $460 against the fees on their accounts.
Students whose schedules include some component of Face-to-Face courses (including labs, etc.), but who have health-related concerns and do not want to be on campus, should contact their advisors for assistance building a schedule with as many courses as possible in the Virtual or Online formats.
Week of Welcome (WOW) programming will be held as planned Aug. 17-23 to acclimate freshmen to life at Marshall.
We are closely monitoring testing, infection and recovery rates in our region. Unfortunately, with things changing so quickly, it is impossible to make a plan guaranteed not to change. As the virus indicators change, we will continue to make decisions and adjustments to protect the health and safety of our university family and our larger community.
Circumstances might require moving all classes to Virtual/Online delivery at any time before the end of the fall semester. Whatever the next few months bring, our decisions will be focused on keeping you safe and providing the high-quality education for which Marshall is known.
As a university community, we must continue to be flexible and ready to adapt to changing conditions, with the health and safety of our students, faculty and staff as our collective top priority.
Continue to monitor your Marshall e-mail account and check the university's coronavirus website for information about our plans, including campus testing data and highlights of our Return-to-Campus plan.
Sincerely,
Jerome A. Gilbert, Ph.D.
President