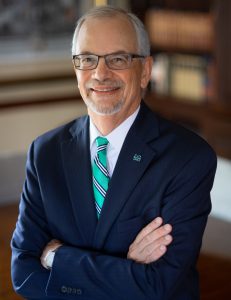 [Note:  Corrected 10/29/20 to clarify that the e-delivery fee will be temporarily reduced from $40 to $25 per credit hour.]
Dear Marshall University community,
I'm writing this message from the Huntington campus, where so far, we have had what I consider a remarkable fall semester. Given the challenges presented to us by the COVID-19 pandemic, we can all be proud of the obstacles we have overcome together.
I look forward to finishing out the semester safely, and am confident we can do so if we continue to wear face coverings, wash our hands and social distance.
And, we can look forward to the spring semester with high expectations. Although the pandemic continues to make adjustments necessary, the success of the fall semester indicates we are on the right track.
With that said, we have made the decision to continue for the spring semester with the same approach we used this fall—a mixture of face-to-face, virtual and online classes. This will allow us to continue to monitor the pandemic in our region and to keep the density on our campuses at a minimum. It also will give us the best possible chance to complete the spring semester safely, while providing a quality educational experience and flexibility for all our students.
Just as it was this fall, classes for the spring 2021 term will be offered in the following formats or some combination thereof:
Face-to-Face, meaning a traditional classroom experience (although with reduced classroom occupancy and required face coverings);
Virtual, meaning class sessions held live via Blackboard and peripheral software, with instructors broadcasting lectures and leading classroom discussions at the specified class meeting day and time. (Sessions may be recorded so students who do not have reliable access to broadband and/or other technical difficulties can watch the class at another time.); and
Online, meaning with no live/real-time class meetings. Course assignments, notes, group chats and discussions are posted on Blackboard and can be accessed at the student's convenience.
Freshmen, some Graduate and most Professional students can continue to expect some combination of Face-to-Face and Virtual courses. Please note that we plan to increase the number of in-person course sections specifically for freshman in the spring semester.
Sophomores, Juniors and Seniors can still expect mostly Virtual courses; however, hands-on courses within a student's major, including labs, clinicals and studio classes may be offered face-to-face, as determined by each academic program. We are particularly focused on ensuring pre-requisite and upper-division courses are available so students can stay on the path to successfully completing their degree programs on time.
We are working now to complete the online course listings for spring to reflect the appropriate delivery formats. The complete course schedule and updated formats will be available in the system before advance registration begins Nov. 9.
Students whose schedules may include some component of Face-to-Face courses (including labs, etc.), but who have health-related concerns and do not want to be on campus, should contact their advisors for assistance building a schedule with as many courses as possible in the Virtual or Online formats.
Here are some other important notes regarding the spring semester:
Changes to the academic calendar have been made to minimize travel to and from campus once the spring semester begins. Class will start one week later than usual—on Tuesday, Jan. 19. The first four days of the originally scheduled Spring Break have been cancelled, and classes will be held to make up for the delayed start to the semester; however, there will be no classes on Friday, March 19, to provide a three-day weekend. Spring classes will end April 23, with final exams scheduled for April 26-30.
All students will pay a lower amount for standard fees for the spring semester. Due to COVID-19, the auxiliary fee will be temporarily reduced from $455 to $355 and the e-delivery fee will be temporarily reduced from $40 to $25 per credit hour.
Mandatory COVID-19 surveillance testing will continue throughout the spring semester for all on-site students and employees. All students on campus for the spring semester, even those who are here sporadically, must continue to use the MarshallU Healthcheck® app every day to complete a brief health self-assessment.
Residence hall move-in will occur over several days, Jan. 15-18, and all students will be tested for COVID-19 upon arrival. Housing and Residence Life will send an e-mail to students next week with details about fall break, winter break, and spring semester move-in and testing procedures.
Dining services will be open at the current 50% capacity, with cleaning of tables after each use and no self-service.
Cloth masks and hand sanitizer will be provided to all on-campus students and employees at the beginning of the semester.
We have made these decisions with our students and employees in mind. Remember that pandemic circumstances could require moving all classes to Virtual/Online delivery at any time before the end of the spring semester. Please also remember that there is no one specific data point that would prompt us to make such a change. Instead, a collective assessment drives the process. For details, please visit our coronavirus website.
Our decisions always will be focused on keeping our students and employees safe, while providing the high-quality education for which Marshall is known.
Continue to monitor your Marshall e-mail account for additional information and updates about plans for the spring semester.
Sincerely,
Jerome A. Gilbert, Ph.D.
President