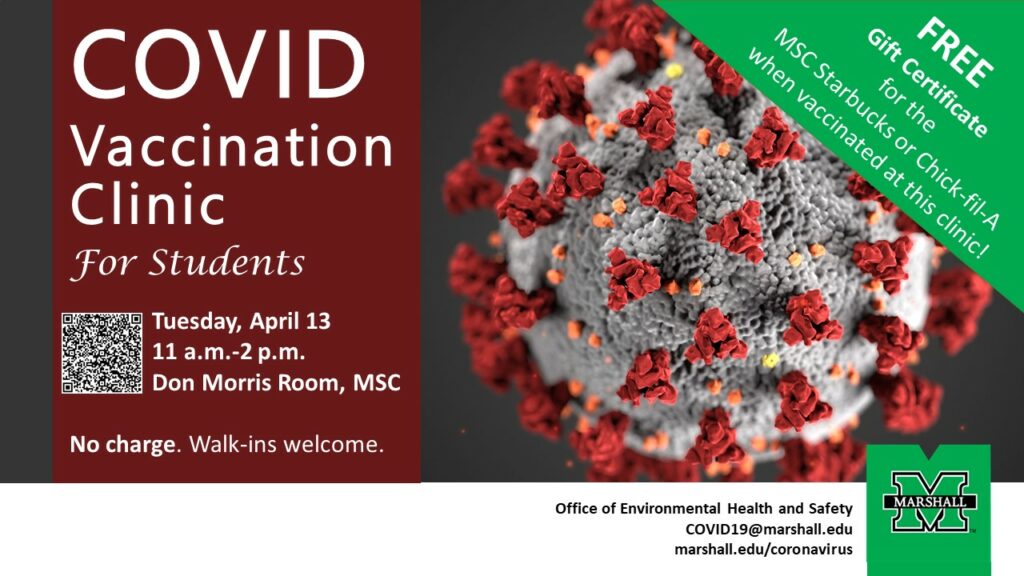 Marshall University and the Cabell-Huntington Health Department will be hosting a walk-up COVID-19 vaccination clinic for students from 11 a.m. to 2 p.m. next Tuesday, April 13, in the Don Morris Room on the third floor of the Memorial Student Center.
The vaccine that will be used is Johnson & Johnson, which requires just one dose and is recommended for people aged 18 years and older. [Update 4/13/21:  Due to this morning's pause of the Johnson & Johnson vaccine by the CDC and FDA, today's on-campus vaccination clinic will use the Moderna vaccine, which requires a second dose. Everyone who receives their first dose today will be notified when it's time for their second dose.]
All students vaccinated at this clinic will receive a FREE $5 gift certificate for the MSC Starbucks or Chick-fil-A.
No appointment is necessary and there is no charge for the vaccine.
Please address questions to COVID19@marshall.edu.